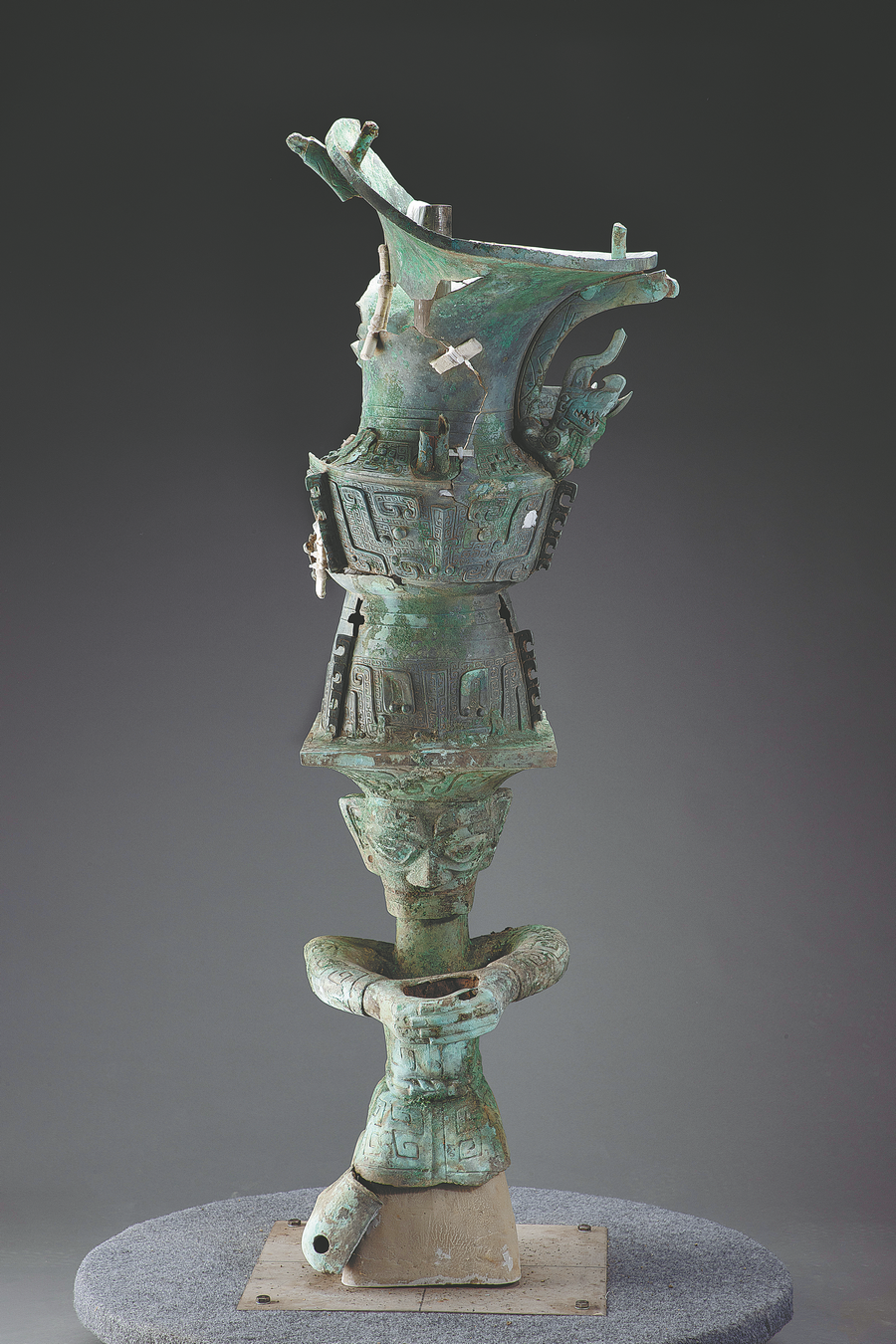 A 14.6-centimeter-high bronze figure unearthed at the Jinsha Ruins is on display at the Jinsha Site Museum. The figure is similar to the 180 cm standing bronze figure found in No 2 pit at the Sanxingdui Ruins.
Both figures appear to be holding something, and their poses suggest they are presiding over an important holy ceremony. They both have a square face and a hole in one earlobe. Researchers think that the figures may be depictions of the chief sorcerer or the king of the ancient Shu Kingdom, or both.
The head of a jade godlike sculpture placed in an obscure corner of No 3 exhibition hall at the Jinsha Site Museum appears to be similar to an item unearthed at the Sanxingdui Ruins.
This ferocious-looking jade object, which is 2.3 cm high and 3.4 cm wide, sports a decorative hat, has a long eyebrow, a triangular eye, a crooked nose and a large mouth revealing three teeth. The lower end of the object is broken. Researchers think it would have had a long neck, allowing it to be fixed to a certain item as decoration.
Like the Sanxingdui Museum, whose exhibits come mainly from the sacrificial pits at the Sanxingdui Ruins, most items at the Jinsha Site Museum are from an area used for holding sacrificial rites. Historical records show that in ancient China, sacrifices and wars were highly important state affairs, Zhu said.
According to Zhu Yarong, deputy curator of the Sanxingdui Museum, 18,000 relics have been unearthed from the eight pits at the Sanxingdui Ruins. Many important discoveries made at the first two pits in 1986 are on display at the museum.