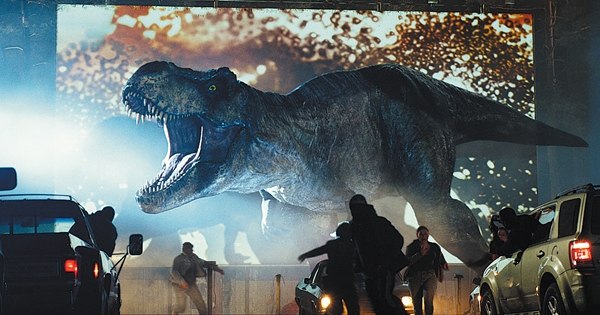 New Jurassic movie, set for Friday release, expected to boost audience numbers, Xu Fan reports.
With the combined number of operating or reopening cinemas in China rising from less than 50 percent in April to over 75 percent as of Wednesday, the country's struggling movie market is seeing a glimmer of hope.
Widely considered a booster to rekindle the enthusiasm of domestic theatergoers, Jurassic World Dominion is scheduled to be released in Chinese mainland theaters on Friday to coincide with the movie's debut in the United States.
The Hollywood movie marks the finale and the sixth installment of the dinosaur-centric franchise created by filmmaker Steven Spielberg around 30 years ago, with the old trilogy titled Jurassic Park (1993-2001) and the new reboot Jurassic World (2015 until now).
Taking place four years after the destruction of Isla Nublar, the fictional island where the genetically engineered dinosaurs are kept for the franchise's theme park, the latest outing finds the surviving dinosaurs now roam all over the world, forcing the major characters to join hands to re-establish the balance between nature and humans.
Recently, the film's stars-actors Chris Pratt, Jeff Goldblum and actress Bryce Dallas Howard-alongside the director Colin Trevorrow attended an online news conference to share their insights and unforgettable moments while making the new movie, one of Hollywood's first major studio tentpoles to go back into production after the COVID-19 pandemic resulted in a global shutdown in early 2020.
During the shooting of the movie, all cast members were housed in one hotel with stringent virus-control protocols, which included taking nucleic acid tests three times a week. Despite being a bit unusual, the shooting gave the creators more time to exchange views and conduct rehearsals and intensify the storytelling.
"I hadn't seen my family for four months, a very long time," says Trevorrow.