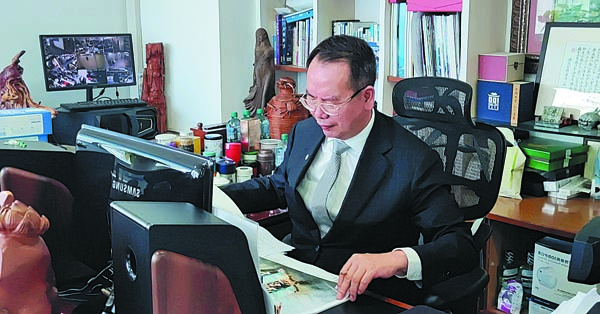 For Wu Chia-ying, president of the Taiwan Businessmen Association in Xiamen, Fujian province, learning is a lifelong endeavor and has helped him recover from depression.
The 62-year-old has earned five master's degrees and two doctorates from six well-known universities, including Fudan University, Xiamen University and the University of Hong Kong.
He recently got an offer from Tsinghua University's PBC School of Finance.
"I prepared for the entrance exams carefully," Wu said. "Since I'm older, I worked harder to graduate after enrolling."
To become an MBA student at Tsinghua University, Wu spent several months preparing for the national postgraduate entrance examination. He even hired a PhD student as a coach.
Wu started his own business in Xiamen over 20 years ago. Beginning with construction materials, his business has boomed.
In 2018, Wu became the first Taiwan resident in Xiamen to apply for a local residence permit.
Although business and association affairs keep him busy, he still spends four to five hours a day studying. Many people have asked him why.
"Learning is a lifelong pursuit. I want to set a good example for the younger generation," he said. "More importantly, studying helped me get over my depression."
Wu turned to medication 10 years ago to cope with the problem, to no avail. When a doctor suggested that he focus on one thing that would make him happy, he began to study.
"It has cured me," he said. "I gradually decreased my use of antidepressants, and now I don't need them at all."
Wu visits hospitals in Taiwan and Xiamen to share his experiences with patients dealing with depression.
In addition to being president of the Taiwan Businessmen's Association in Xiamen, Wu is also executive vice-president of the Association of Taiwan Investment Enterprises on the Chinese mainland.
He now focuses more on promoting integrated development across the Taiwan Straits and often encourages fellow Taiwan compatriots to join the mainland's development, telling them the good policies and large market present many opportunities.
Wu said that his studies are mainly related to business operations and management and that some of the entrepreneurs in the associations consult him when they encounter problems.
"Thanks to reform and opening-up, the first generation of Taiwan business owners who came to the mainland with capital and technology mostly profited. However, after two or three decades of development, their businesses are facing the challenges of transformation and upgrading," Wu said.
"How can they achieve this? It's not easy. I often take practical problems we encounter and research them to find solutions. For example, how can costs be reduced? What processes can be automated? How does the business fit the global market? How are assets allocated for generational transmission?"
To Wu's delight, his research and suggestions have been adopted by many of his fellow business owners, and he has been able to help their businesses perform better.