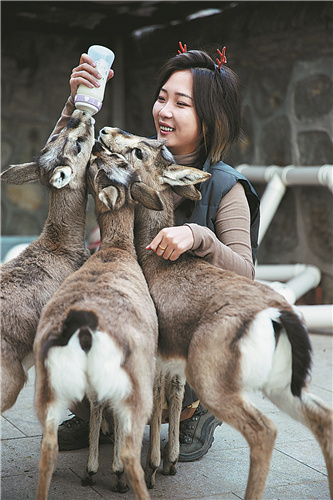 Conservationist Chu Wenwen has been as industrious as the creatures she studies in creating platforms for their protection and promotion.
More than three decades ago, Chu Hongjun, a young man from East China's Shandong province, traveled to Northwest China's Xinjiang Uygur autonomous region, throwing himself into wildlife research and protection work in Altay prefecture, especially the conservation of endangered beavers.
Today, his 27-year-old daughter, Chu Wenwen, adheres to the faith of her father. More than that, she has successfully called on more than 1 million young people in making a joint effort to create a better living environment for the Mengxin beaver, the only beaver species living in China, which is only found along the Ulungur River in Altay.
Earlier this month, as part of its 26th iteration, Chu Wenwen was awarded the China Youth May 4th Medal-the top honor for outstanding young Chinese people-for her continuous efforts in environmental protection.
The web-savvy youngster has initiated a project to livestream, 24 hours a day, how the beavers live in the wild.
The Mengxin beaver is a species that can improve its ecological environment. It uses branches of willow shrub to build "dams" that become small habitats for fish and birds and attract more species, such as small beasts and insects. Therefore, each beaver dam provides a new habitat for wild animals and helps to improve biodiversity levels, she explains.
Infrared cameras have been installed so that viewers can observe the ecological circulation around those small habitats built by the beavers.
Chu Wenwen also recruited volunteers from across the country to take notes on the behavior of the beavers and their interaction with other wild animals, according to what they see from their screens at home. These notes can also be used for relevant scientific research.
Additionally, as the director of the nature conservation association of Altay prefecture, she is also willing to take parents and their children on field trips to observe beavers firsthand.
She believes that if opportunities are provided for people to learn more about the animal, they're more likely to take actions to protect it.
"We can bridge the gap between the public and the beavers," she says.
Willow shrub is not only the material that beavers use to build their dams, but it is the major food source for beavers. To create a better living environment for the species, Chu Wenwen has initiated a charity project titled Beaver Canteen to solicit funds from internet users to buy willow shrub seedlings. She and her team, as well as the local Kazak herders, then plant the seedlings.
Now, more than 410,000 willow shrubs have been planted with the money raised from the project. And the number of beaver nests has increased from 162 to 190 over the past four years, a 20 percent jump in the population of the rodent.
Chu Wenwen says these projects aim to make ecology conservation easier.
"We are the young generation that grew up amid the internet boom. Today, modern online communication tools and advanced equipment used for scientific research enable us to gather more people together in the pursuit of wildlife protection," she says.
A wildlife rescue center, offering medical and rehabilitation services to wild animals, is also under construction in Fuyun county, Altay prefecture-another charity project initiated by the nature conservation association that Chu Wenwen has registered.