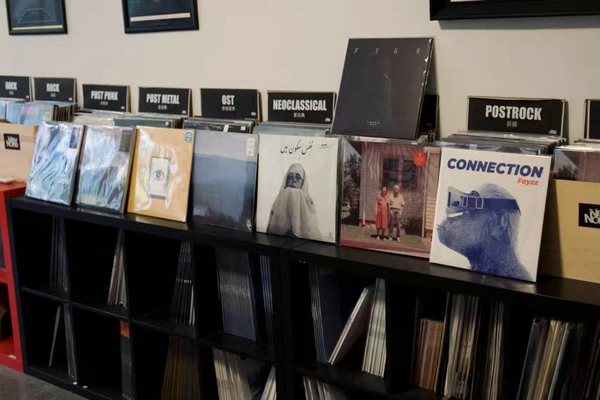 Vreys' vinyl record store focuses on releasing vinyl and acts as a label. Last year, they did 12 releases and sold more than 20,000 copies.
According to the 2022 Global Music Report released by the Federation of the Phonographic Industry, an organization that represents the recorded music industry worldwide, recorded music revenues reached $25.9 billion in 2021, an increase of 18.5 percent from 2020 and the highest revenue levels this millennium.
For the first time in 20 years, there was growth in the physical market. Revenues increased by 16.1 percent to $5 billion. This was partly driven by a recovery in physical retail which had been heavily impacted in 2020 due to the pandemic. Revenues from CDs grew for the first time this millennium and there was particularly strong engagement with the format in Asia.
"At the same time, the recent resurgence of interest in vinyl continued with very strong revenue growth in 2021 of 51.3 percent, up from 25.9 percent growth in 2020," according to the report.
Vreys says over the last three years, China saw a much bigger demand for vinyl records.
"I think the main thing here is that it's getting easier for people to buy records. Once you own a turntable there is no way back and you will start to collect more and more records," he says, adding that more Chinese bands have started to put out vinyl records as well.
He recalls helping Chinese rock band, Wang Wen, to release its album on vinyl 10 years ago. At the time, the band only did 300 copies and sold out after a few months. Now it sells thousands of copies.
"It's true that we have a lot of music digitally but there's nothing that beats that tangible quality of being able to hold some of your favorite albums in your hands, put them on the record player and listen to them," says Ma Chi, founder and owner of LiPi-Records, one of the biggest stores selling vinyl discs in Beijing, which is located in the city's 798 art zone.
Ma has also organized events every year to mark Record Store Day. This year, due to the pandemic, events in Beijing were held online in April. Having collected vinyl records of various genres from secondhand stores during his travels since 2007, Ma founded his store in 2009. He says business has been heavily hit by the pandemic and he has managed to keep his store afloat by selling products online.
"Hopefully, we will be able to survive this," he says.
Contact the writer at chennan@chinadaily.com.cn