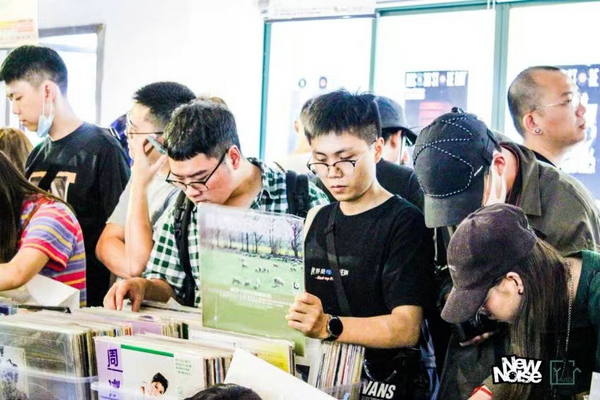 Every year, New Noise releases special vinyl records for musicians from China and abroad to mark Record Store Day. This year, music labels, including Modern Sky, Maybe Mars, Caotai Music and Space Fruity Records, will join the Record Store Day event in Chengdu.
"I really think that it celebrates independent stores and it really connects artists and music fans from all over the world. Every year you have a very big amount of RSD(Record Store Day) releases, which is a great thing. I really like the fact that this is a worldwide event taking place on every continent. I feel right now there is still a big support for buying physical copies of albums to support artists, and the Record Store Day really helps in that regard," says Vreys.
He moved to China for his studies in 2007 and completed a Chinese history major at Sichuan University in Chengdu in 2009. He founded New Noise the same year and started to bring international bands to China. So far, he and his team have done more than 800 shows across Asia.
"Chengdu has one of China's biggest and most exciting indie music scenes. The great thing about this city is that everybody knows each other and fully supports each other, it's basically one big family," he says.
Since 2020, everything started to change and his label had to cancel many scheduled tours, which allowed Vreys to work on opening a vinyl store.
"Even with digital streaming services booming, a record store still has its place and will never disappear," says Vreys, who has been going to record stores since he was 11 years old.
Since he was 15 years old, Vreys started to promote shows for indie bands, which has always been his passion. He has been collecting vinyl since he was a teenager. Now, he has a few thousand vinyl records at his parents' home in Belgium and his in Chengdu.
"For me, it's one of the most fun things to do. Every time I travel to a new country or city, I will always try to find the local record store. A good record store is to have an owner who knows his things and has a big heart for music," he says. "It's such a magical moment when you can find a vinyl that you've been looking for a long time."