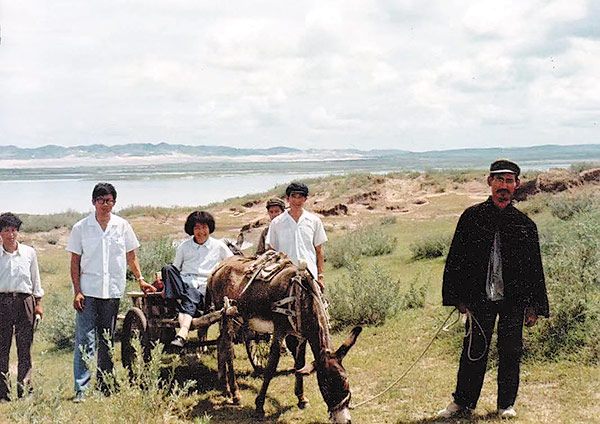 Peking University's sociology department is carrying on with a spirit of inquiry after four decades of development, Fang Aiqing reports.
As Peking University's sociology department has come through 40 years of exploration and development since its reestablishment in 1982, the faculty, alumni and students are tracing its history and academic tradition with a spirit of inquiry. "Find something you want to look into and then stick it out until you penetrate it to reach the truth," says Zhou Feizhou, head of the department, citing the first dean Yuan Fang (1918-2000) to describe the tradition.
This year also marks the centennial anniversary of the establishment of the department's predecessor, the sociology department of Yenching University, in 1922.
Over the century, it has grown in observing society with sociological approaches, especially on the country's rural problems and ethnic groups' life situations, led by a wealth of big names including Wu Wenzao (1901-85), Fei Xiaotong (1910-2005) and Lei Jieqiong (1905-2011). These scholars pioneered Chinese sociological studies and laid its foundation in China despite war, political turmoil and scarce research resources.
From the late 1890s, Chinese scholar Yan Fu (1854-1921) translated British sociological classics, including Thomas Henry Huxley's Evolution and Ethics, Herbert Spencer's The Study of Sociology and John Stuart Mill's On Liberty, into Chinese. Yan put the word sociology as qunxue, meaning the study of a group of people, indicating the discipline is to understand the laws underlying the relationship between individuals and society that's made up of individuals.
In 1916, Yan's student Kang Baozhong (1884-1919), then teaching the history of the Chinese legal system at Peking University, started the first sociology course at the university, marking the beginning of sociology education in the country.
Yenching University was one of the most renowned Christian schools in China led by John Leighton Stuart (1876-1962), who later became US ambassador to China, from 1946 to 1949. The university kept close ties with Western academic circles, which resulted in Chinese scholars being informed on the most updated academic ideas in the West.
For example, in the 1930s, Wu, then head of the department, invited US sociologist Robert E. Park and social anthropologist A.R. Radcliffe-Brown to visit and lecture.
And since its founding, the sociology department of Yenching set off a wave of social investigations. They conducted surveys or interviews to learn about rickshaw pullers or the living standards of grassroots workers and teachers in Beijing as early as in the 1920s. These investigations were not limited to the urban economy but also involved villages and agricultural topics.
Worth noting is also a series of community research on the villages of Qinghe town, today part of suburban Beijing. Some of them integrated social reform experiments like countryside loans and women and children's welfare improvement.
In July 1939, the teachers took students to the town's Pingjiao village, with around 60 households, to visit villagers and observe and collect research material. Some students moved to live with the villagers for research, learning sociology from real life while expanding knowledge about Chinese social structures that have their roots in the countryside.
Their comprehensive, diverse research covered topics like village industry, cottage crafts, political structure, education, religious beliefs, and also women's living conditions, and were largely based on human ecology and traditions of structural functionalism represented by the academic contribution of Park and Radcliffe-Brown.