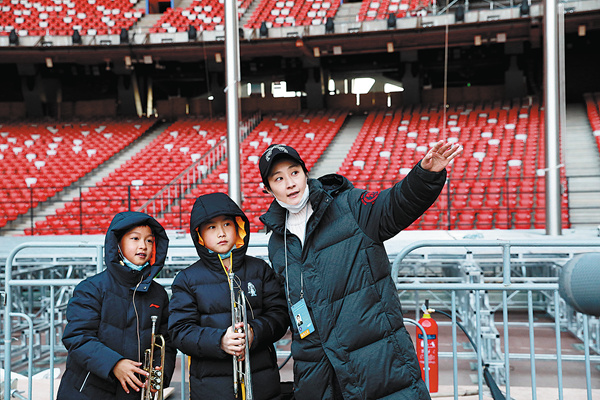 Technology enables a futuristic interpretation of traditional Chinese elements, such as the solar terms, to kick off showpiece event, Xu Haoyu reports.
The opening ceremony of the 2022 Beijing Winter Olympics was widely praised for its creativity and innovation. Through teamwork, guided by famed filmmaker Zhang Yimou, many directors and choreographers created the show together.
Tao Wenting, a lecturer from the College of Military Culture at the PLA National Defense University, was a member of the creative team that directed the first several sections of the ceremony.
The ceremony was held on the day of li chun, the beginning of spring, the first of 24 Chinese solar terms. And the namesake opening show presented the charm of the season with 10-meter tall luminous poles simulating green grass and white dandelions.
Tao claimed that in order to present this show perfectly, in addition to the precise selection of materials, supported by projection onto the floor of the stadium, the biggest difficulty was actually the simulation of the two plants.
A team from Beijing Institute of Technology offered a helping hand, creating a detailed manual with markings on the longitude and latitude, and from various angles, to make rehearsals more efficient and the overall visual effect more vivid.
A total of 393 students were selected from two martial arts schools in Laizhou and Yuncheng, Shandong province. They trained for about four months to practice holding and waving the poles in the right place, at the right time and at the right angle.
Tao also directed the raising of the national flag, which involved 176 people, including representatives of China's 56 ethnic groups, people from different industries in the Beijing-Tianjin-Hebei region-from an astronaut to a deliveryman-model workers and outstanding members of the Communist Party of China.
As a military officer herself, Tao says she felt deeply moved.
"They are all the backbone of the country and they make something great from ordinary life. I think their feelings for the flag are deep and heartfelt, and they can express their love for the nation on behalf of the people," says Tao.
Modern artistic installation techniques and technology were also highlighted at the ceremony.
At one point, a cube of "water "appeared on the stage thanks to augmented reality and the application of an artificial intelligence image processing algorithm.