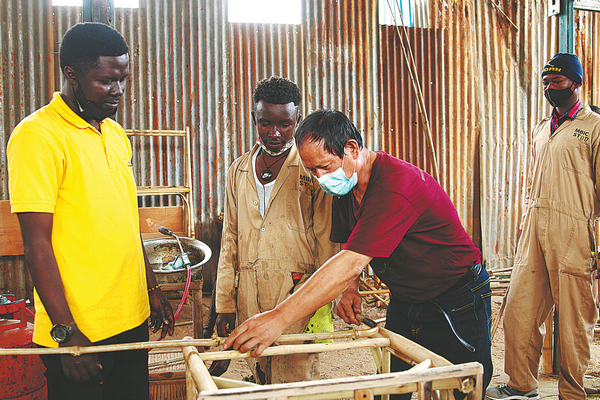 KIGALI-A growing number of youngsters have turned to bamboo furniture manufacture and weaving businesses after skills training by Chinese experts helped a bid to tackle youth unemployment challenges in Rwanda, a landlocked country in eastern Central Africa.
The bamboo processing and training center is located in the Masaka Incubation Business Center, in the Kicukiro district of Kigali, the Rwandan capital.
Chinese experts of the China-Aid Rwanda Bamboo Team have been undertaking training projects about bamboo cultivation, processing and utilization in the country since 2009.
"The Chinese experts introduced bamboo cultivation and processing to our country. They supported us with equipment and trained us on how to cultivate, harvest and process bamboo into products for home use, such as furniture, baskets, lamp holders, decorations and toothpicks, among others," Irenee Gumyushime, one of the students at the center, says.
He says bamboo processing has enabled him and his colleagues to acquire the necessary skills and expertise to become self-employed, which is key to reducing youth unemployment in the country.
"The Chinese experts taught us their skills and I am now an expert in furniture-making. I am also a trainer at the center. I thank the Chinese experts for their efforts in making our lives better through this training," says Gumyushime.
He points out that they are now facing the challenge of getting new bamboo processing equipment, because the existing equipment is old and worn-out, adding that China-Aid Rwanda, which has been supporting them, has since phased out.
Gumyushime says there are 20 students at the center engaged in bamboo processing and among those, nine are women.
According to him, students at the center are capable of producing various types of furniture for home and office, and there is already a market for bamboo products in Rwanda.
"I am now able to earn an income and, at the same time, I am saving the environment," says Gumyushime.
Jean de Dieu Niyonkuru, another student at the center, says he, too, now specializes in making bamboo furniture.
"I joined the center in 2015 and I was trained by the Chinese experts for six months. I also spent another three months doing hands-on training while receiving mentorship support from the Chinese," says Niyonkuru. "They also offered me an opportunity to go to China to get further training. I am now doing very well. There is good business in bamboo products."