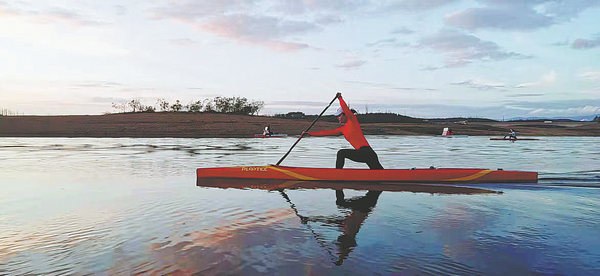 Tough training
To catch the opportunity to go back to canoeing on the international level, Xu started her training-"as cruel as hell". She began her daily exercises early morning and ended at 10:30 pm, exploring the physical limits of her body.
Every day, she would set several detailed goals for her training, such as how high the heart rate should be when paddling a canoe and how long it should take her for 500-meter paddling.
"Only when I reached all my daily goals, I would go ashore," Xu says.
It was a hot July in 2017 in Nanchang, where temperatures can reach 40 C in summer. Xu exposed herself to the scorching sun for hours every day, kneeling on her canoe. Her skin was sunburned. Blisters formed, crusted over, healed and broke out again. But her daily regimen was hardly affected.
"When I paddled my canoe, the blood mixed with sweat and flowed from my arms to my paddles," recalls Xu.
"At the beginning, it really hurt. When the pain reached a peak, I couldn't feel my arms and finally became numb," she adds.
The more than two months of grueling training finally paid off. Xu won two gold medals at the 13th National Games in two women's canoe events, which meant she would be part of the national team to compete in the Canoe Sprint World Championships by the International Canoe Federation-for qualification for the Tokyo Olympic Games.
Xu's coach, Peng Hao, says Xu is an excellent athlete.
"She made all efforts to reach the goal and never gave up. She has a strong heart to face high pressure," says Peng.
Xu was born in a small county in a mountainous area in Jiangxi. Her mother farmed at home while her father worked in a factory. She started to help her mother do farm work and housework when she was a little girl.
Before becoming a paddler, Xu couldn't even swim since her hometown is surrounded by mountains.
In 2005, the 13-year-old, who was much taller than her peers, attracted the attention of a rowing coach who came to look for potential paddlers in her school.
Xu agreed to train at a rowing center because she thought rowing a boat was fun. Two years later, the rowing coach suggested that she change her sport to canoeing considering her physical condition and height. She was recommended to join the provincial-level canoeing center.
Unlike rowing in which the athlete sits on a boat and rows on two sides, canoeing requires paddlers to kneel on one leg and paddle on a single side. To stay balanced is quite difficult.
"Every day my canoe turned over dozens of times. I drank lots of water in rivers," recalls Xu of her first canoeing training.
Xu kept training for a year and she made the final of a national race for teenage athletes out of a dozen paddlers at the center. The training involved to get this far bordered on torture.
She still vividly remembers running every noon under the intense sun in Nanchang when the temperature "could fry an egg". Her persistence paid off. The national race marked her first victory and strengthened her determination to embrace canoeing as a career.
However, in 2013, the news that women's canoeing was still not an Olympic event dealt her a heavy blow. No Games, no competitions. Xu's coach suggested her to either change to another sport or to retire.
It was impossible for her to change the sport at age 21. Xu gave up her career and found her first job as a saleswoman in a furniture company. The next year, she was promoted as a human resources manager.
"I never thought that one day I could go back to the sport. Now that I have started again, I will do my best," says Xu.
She adds that her former boss even kept her position for several months in case she returned.