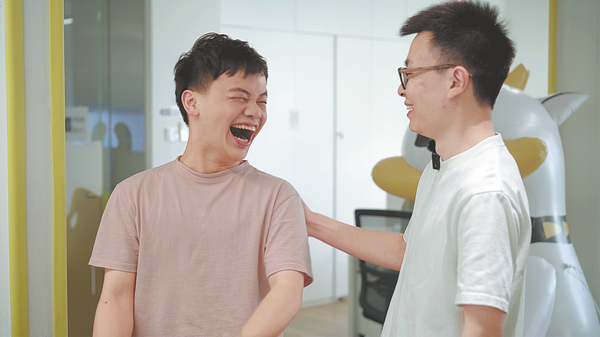 A stand-up comedian is, supposed to be, a fluent communicator who is also good at using body language to accompany jokes.
However, for 27-year-old comedian Zhang Jiaxin, it takes a great effort to clearly pronounce the sounds of each character and sentence and be flexible on the stage. At birth, the oxygen supply to his brain was curtailed, which led to later problems with speaking and walking. The other long-term impairment is the loss of full use of his right hand.
Yet what makes him even more special is his ability to exploit his conditions in a way that makes both him and the audience oblivious to them.
More than that. He has found strength in his vulnerability.
It was two years ago when Zhang first performed stand-up comedy on the stage. At the time, he worked for the new media operation department of a company based in Xiamen, Fujian province, and had to prepare for a performance at the company's year-end party.
He didn't know much about stand-up performance. However, as someone who likes to watch and be amused by entertainment shows from a very young age, he decided to give a humorous monologue at the party to amuse and entertain his colleagues.
"I didn't organize puns, punchlines or setup according to a proper joke structure," he recalls. "I simply tried to roast my job and some of my colleagues in a funny way."
It opened Zhang's door to a colorful world of stand-up comedy.
He started to pay attention to the stand-up comedy live shows in Xiamen and got the contact of a woman who worked at a local stand-up club.
The woman encouraged Zhang to write down jokes and test his material in open mics hosted by the club. But he shrank from showing his physical imperfections onstage.
"She sent me some videos of Drew Lynch (an American stand-up comic who developed a permanent stutter due to a sports injury earlier in his life) and told me that my defects are what make my appeal special," he says. "That inspired me to have a go."
After he read through a manual for writing and performing stand-up comedy, he started to examine his daily life to identify humorous moments that could be used as jumping-off points to launch into stories.
He then shaped material-basically funny things that happened at his work-into a complete stand-up routine and performed at an open mic held in May 2020.
Once he walked onto the stage, the audience immediately noticed his differences.
"Initially, they were kind of walking on eggshells to spare my feelings. As I gradually opened myself to them, the atmosphere turned to be relaxing," he says.
Wows and claps resounded. His jokes went down well as he worked the room with his humor.