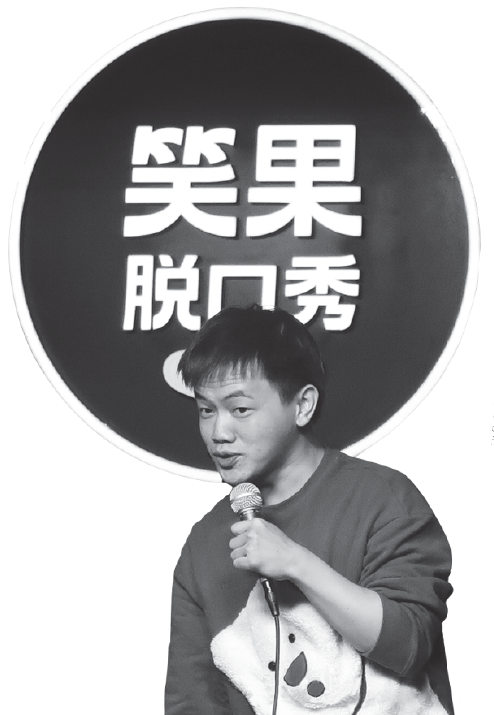 That motivated him and later he became a full-time stand-up comedian.
At the end of 2020, Zhang attended a comedy camp held by Fun Factory that has produced hit stand-up comedy reality shows including Rock & Roast and Roast. There, he met comedian and scriptwriter Cheng Lu who encouraged him to use more of his personal experiences as material, even those that might be hurtful.
He began to pluck up the courage to exploit his physical handicaps or recollect hurtful memories when writing jokes and surprisingly found out that the process helped him to embrace his imperfections and get over the painful experiences.
On Qingming Jie, or Tomb Sweeping Day, in April, Zhang released the video of a set by which he comically talks about his father's death and some local traditions of honoring the dead.
People usually burn joss paper items in the hope of sending money and material goods to deceased relatives in the afterlife, he says.
"What impressed me most is that they even burned a miniature six-floor villa with a housekeeper and a security guard, of course all made of paper."
"They've burned stacks of paper 'money' for my father. Why not just burn a bank for him."
He also mentions another tradition of commemorating the dead.
Every time his family members went to put food in front of his father's tomb, they brought two coins, he says.
They would first ask the dead if he is full, and then flip the coins. A head and a tail would mean "yes".
"One day, I asked my father whether he had come to see my comedic shows. And the outcome was a head and a tail," Zhang ends the set.
The set with witty humor and a comforting end has amused as well as deeply touched many viewers.
"You are such a strong performer who is able to touch upon these heavy topics in a humorous way. I really appreciate your positive attitude toward death and all the frustrations we have to face in life," comments a viewer.
This year, Zhang has participated in the popular stand-up competition show Rock & Roast, making him known to a larger group of audiences. And he began to form new understandings about joke writing.
"I hope that I can express my reflections on life and observations of social phenomenon in my works," he says. "I want to break the stereotypical ideas people hold about vulnerable groups."
He says sometimes when he has dinner at a restaurant, the waiters there pay special attention to him and actively help him do things that he is able to do on his own.
"That makes me feel awkward. I just want to be treated as a common member of the society," he says.
He has written such experiences into jokes. For him, good stand-up jokes start from his personal experiences and then get to certain topics.
Regarding the strongest motivation for him to perform stand-up comedy, he shares a story.
"One day, after I finished a live show in Xiamen, a woman came to hold my hand, bursting into tears," he recalls.
The woman is the mother of a 4-year-old child with physical challenges.
"She told me that she didn't have any confidence in the child's future until she watched my performance. That means a lot to me," says Zhang.
He is now busy preparing for a"40-minute-or-so" solo show.
"I feel honored to raise up more people who suffer from the trials of life," he says.
Contact the writer at xingwen@chinadaily.com.cn