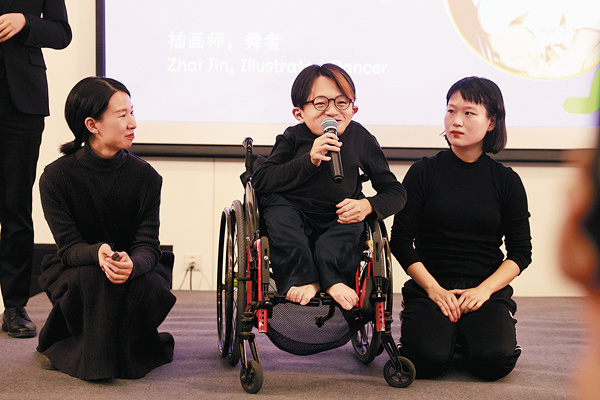 Caricature artist Zhai Jin is finding innovative ways to fully embrace life and fuel his creativity, Cheng Yuezhu reports.
From the age of 18 to 32, caricaturist Zhai Jin hardly left his own home in Anhui province. He was diagnosed with osteogenesis imperfecta, also known as the brittle bone disease, an illness that made him prone to fractures.
Even though he has loving family members, for a long time he felt that he was trapped in a small space, with little knowledge of, and limited access to, society, and he longed to see the outside world.
In 2016, he left for Beijing to attend a training program named "independent living" hosted by the China-Dolls Center for Rare Disorders.
"One day, I went outside and had a late-night meal with my friends at 3 o'clock in the morning. On my way home, I was the only person on that road, apart, perhaps, from a few drunken men. At that moment, I suddenly felt that the road belonged only to me," Zhai told the third UK-China Disability Arts Forum on Dec 3.
"This feeling seems very simple. Maybe a lot of people feel it occasionally and naturally when they grow up. But it was a whole new experience for me. I felt that I had acquired something for the first time, simply by journeying alone on the road."
It was also in Beijing when he was introduced to symbiotic dance-the principle of which is that everyone, disabled or not, can enjoy dancing-and contact improvisation, a dance form that encourages physical contact with others.
"Once, a dance session that incorporated contact improvisation truly changed me. That day, I descended from my wheelchair to the floor, and a 70-kilogram man rolled over me," Zhai says.
"I don't know why, but I suddenly felt that I was a useful person, that my body was useful, too. It could support a strong man, even two people. I felt a sense of confidence from the bottom of my heart."