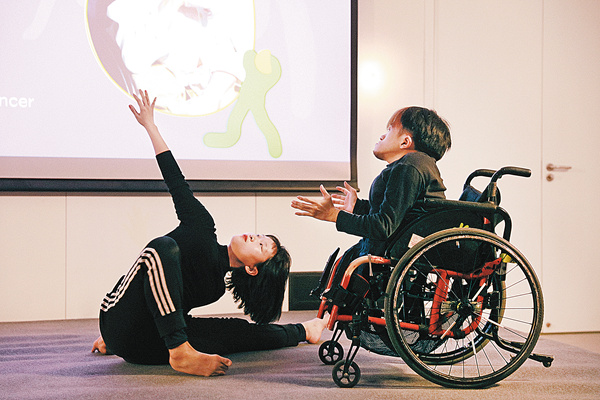 Since then, he has become involved in various inclusive art projects and is making a living with his skills as a caricature artist.
Zhai's interest in painting started at an early age. He recalls that, at about 3 years old, he liked to scribble on random pieces of paper, an activity encouraged by his parents because it required him to stay still and avoid physical strain.
Influenced by animated TV series and graphic novels, he started copying the characters, designing those of his own and conceiving original stories for them in his mind.
To improve his ability in character design, he practiced creating manga characters that were based on real people, a style that he later learned was quite similar to Japanese caricature art.
Knowing that there was a demand for such drawings, and confident in his own abilities, in 2019, he launched his own brand Gene's Caricature, offering personalized caricatures, both in person and online.
He often sets up his stall in a market, sits in front of clients, asking and learning what they would like to be created. He says painting for a client always gives him a sense of achievement.
"Those faces are all real. Each face is like a book, and I have the honor of reading each and every one of them, even if it is just a few pages," Zhai says.
"Once I was talking to a photographer friend, and we both felt a sort of empowering pleasure in capturing our subjects and presenting them inside a frame. Different from photography, however, caricature allows me to re-create my subjects. They are my original creations, and I get to exercise my inspiration in my own domain."
He also opened an account on Bilibili, which now has around 7,000 followers. He posts video blogs of himself creating caricatures and about his everyday life.
Under one such video, one viewer comments: "You're really very hardworking. Your creations might appear simplistic, with only a few strokes, but they are able to bring people happiness, warmth and consolation."