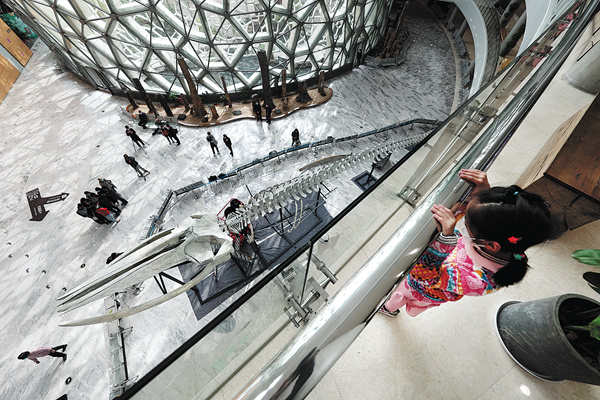 Museum taxidermists painstakingly re-create the wonder and majesty of the creatures when they were alive, Xing Yi reports.
Donning a gas mask, Zhang Tangming carefully made an incision on the subject after the premises were evacuated due to fears of an explosion. When he was done with the task, he was unable to hug his son for a week. But Zhang wasn't dealing with an explosive device. He is a taxidermist at the Shanghai Natural History Museum.
This assignment took place in March 2017, when fishermen found a whale carcass off the mouth of the Yangtze River and towed it to the coast of Shanghai.
Due to the efforts of Zhang and his colleagues, the skeleton of the 24-meter-long whale was finally displayed to the public on Dec 10 in the center court of the basement of the Shanghai Natural History Museum. This is the largest whale skeleton that has ever been displayed in China.
Accomplishing this feat required the taxidermy team from the museum to perform a series of arduous and complex tasks. The assignment also came with personal sacrifices. Zhang, for instance, stank of dead fish for a week and couldn't bring himself to eat fish for the months that followed.
"The whale was huge, and the rotten flesh stank," recalls Shan Kun, deputy head of the museum's taxidermy division, which was roped in to help after experts from the Shanghai Ocean University suggested the whale be turned into a specimen for research and education.