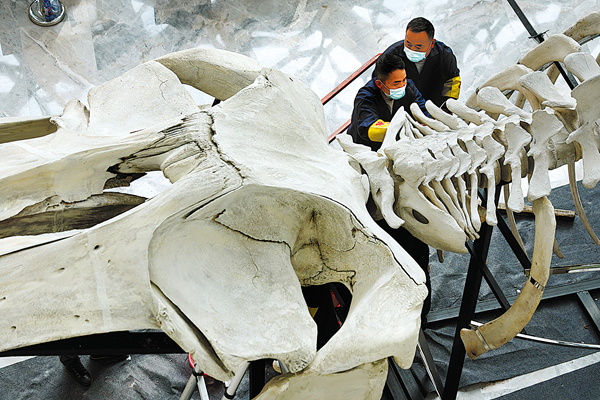 Working with the giant bones was no easy feat. A small rib bone could weigh as much as 12 kilograms. The skull of the whale was a whopping 1.5 tons.
In the last phase, the team fashioned replica bones to replace the ones that were missing from the whale's left fin and left jawbone. They also had to create customized fixtures to mount the massive skeleton.
The entire project took the team four years to complete.
Shan says such projects keep him passionate about his job, which he describes as a "multidisciplinary profession".
Shan used to be a guide at the museum, and in 2007 he was selected with several others by the museum to become a taxidermist. The museum invited experts from the International Council of Museums and Museums Victoria in Australia to train them on preparing and preserving a variety of specimens, including birds, mammals, reptiles, fish and crustaceans.
"You first need to know about anatomy and biology. Then you need to learn about sculptures and drawing. This job also requires knowledge of carpentry, electrode welding and chemistry," he says.
A large part of the job of taxidermists at the museum is repairing and maintaining exhibits. To do so, they often inspect the skeletal specimens and add special adhesives to prevent wear and tear. Special disinfectants are also applied to prevent mold from forming.
The museum currently exhibits more than 11,000 specimens and models, displaying the diverse biosphere from around the globe. Nearly 1,000 among them are rare species, according to the museum.
"Since we have so many specimens, there is always work to do," Shan says. "I'm always excited about my work because what I do is akin to bringing dead animals back to life."
One of Shan's proudest works is the taxidermy of two tigers fighting each other. For this, he prepared a special exhibition to welcome the Year of the Tiger in 2010.
"I had to study photos and videos to know about the posture and movement of tigers so as to create a vivid taxidermy model. Taxidermy requires much time and meticulousness. Making a good model can often take months, if not years," he says.
"But seeing the animal return to life in another form-this makes all the hard work worthwhile."