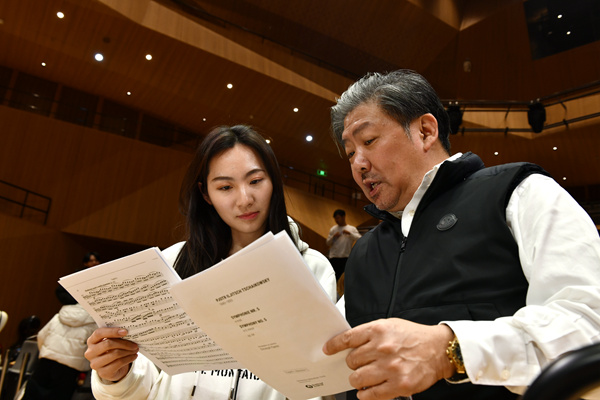 Renowned conductor Yu Long takes to the podium to hand down his expertise to the students of the Tianjin Juilliard Orchestra, Chen Nan reports.
For the very first time in his decadeslong career, renowned conductor Yu Long took the baton and led a student orchestra in concert, which he describes as "a wonderful new discovery".
On Dec 9, Yu conducted Tianjin Juilliard Orchestra to perform Gustav Mahler's Symphony No 4 in G Major.
During the three-day rehearsal, he worked closely with the orchestra, consisting of students of Tianjin Juilliard School, the world's first, and so far, only branch campus of the New York performing arts school.
"When I do rehearsals with professional symphony orchestras, I am very strict. I point out mistakes outright," says Yu, who is the musical director of the Shanghai Symphony Orchestra, musical director of the Guangzhou Symphony Orchestra, and artistic director and chief conductor of the China Philharmonic Orchestra. "When I work with the students, I am more like a father. I learn to communicate with them, just like talking to my daughter."
In 2019, Yu was invited to take the position of chair on the Tianjin Juilliard Advisory Council, composed of exceptional individuals, including Deborah Borda, president and CEO of the New York Philharmonic, pianist Lang Lang, soprano Renee Fleming and composer and conductor Tan Dun.
"The rehearsals turned out to be good. These students showed me their charming nature, passion for music and their vibrant musicality," says Yu. "They reminded me of my years as a student. They have open, inquiring minds. They learn to play individually as musicians and collectively as an ensemble."
According to He Wei, violinist, artistic director and dean of Tianjin Juilliard School, it was the first time that the students of the school's orchestra had performed Mahler's symphonic work.
"Among all of Mahler's works, Symphony No 4 is the one that is closest to chamber music. It is scored for a full orchestra and has a soprano part in the last movement. It sounds like a dialogue between all kinds of musical instruments such as violins, violas and oboes in the first movement and double basses, cellos and clarinets in the third movement," He explains.
Soprano Li Jingjing performed in the last movement of the piece.
The concert also brought a trombone quartet to perform Dutch composer Saskia Apon's Eerste Trombone Kwartet.
Faculty members of the Tianjin school also joined the concert, including flutist Gergely Ittzes, bassoonist Akio Koyama, clarinetist Zhou Xiangyu and trumpet player Sergey Tyuteykin.