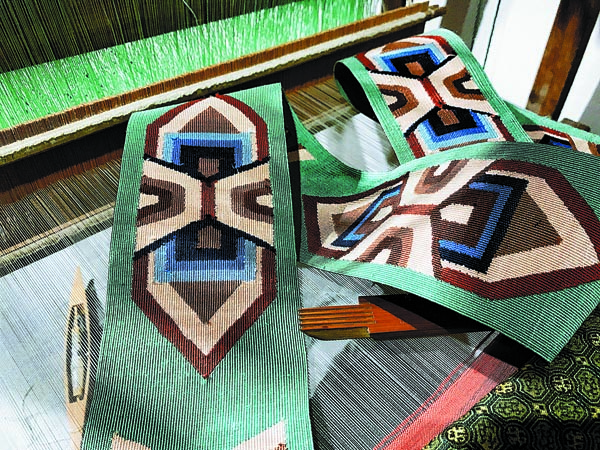 In 2016, he teamed up with Sheme, a woman's shoe brand from Chengdu, Sichuan province, and developed refined qipao, or cheongsam, dresses and delicate shoes with kesi elements, which became the center of attention at the 2016 Shanghai Design Week.
People flocked to Hao's workshop to appreciate and learn about the kesi craft as a result.
"I didn't imagine that kesi could be made into costumes, handbags and shoes," says Yuan Zhenhua, who had been working at a kesi plant in Wuxian county, Suzhou city, for more than 30 years.
She has noticed Hao when he used to go to the plant and offered him tips about kesi production.
"My colleagues and I were impressed by how he could make products using the kesi technique at his age," Yuan says.
She has been helping out at Hao's workshop since retiring.
"I hope I can still improve my kesi works and pass on my skills to more apprentices," Yuan says.
Hao and the artisans at his workshop can finish 10 major kesi works a year, and they've been experimenting with applying the craft to other products, such as facial masks, and to the restoration of ancient paintings.
At the moment, Hao spends most of the time sitting before a loom, exploring ways of integrating the ancient kesi technique with other art forms.
In his free time, he plays guzheng, a zither-like traditional Chinese musical instrument, and paints when he feels like taking a break at his rural abode.
"I only go to the city if I have to," he says.
"I'm looking forward to a lot more kesi crossover cooperation and development in a variety of applications in the future."