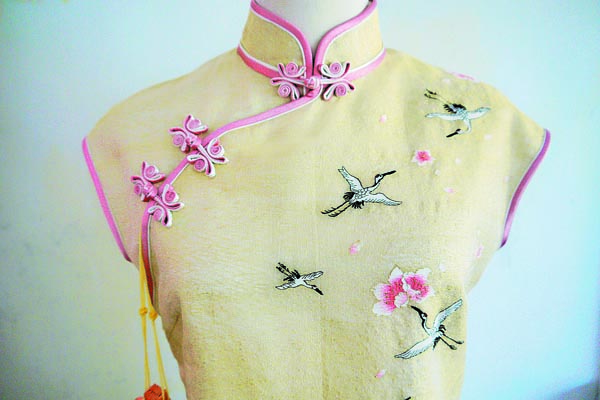 For kesi, raw silk is used for vertical threads and colorful boiled-off silk for horizontal threads. The vertical threads are continuous while horizontal ones are not. The colorful threads are weaved to create various patterns. Held against the light, the patterns seem carved or engraved.
"It was simply magical," Hao says.
Kesi had already been etched on Hao's mind, albeit vaguely, when he learned about it by reading A Dream of Red Mansions, a classic Qing Dynasty novel, in his early school years. "In the book, kesi was described as splendid, and was exchanged as gifts among the wealthy, so I imagined that it must have been something extraordinary," he says.
Hao says that he has been fascinated by textile work since before college and he admires the water towns in the south of the country.
Because of this passion, he strived to study the weaving and dyeing art and design major at Soochow University in Suzhou. He was enrolled in 2009 after taking college entrance examinations three times.
"I love learning things which require lots of handwork," he says.
In the third year of college, in 2012, Hao jumped at the opportunity of a three-month internship at a kesi workshop.
In addition to taking care of the regular school requirements, Hao embarked on a two-hour commute by bus to the workshop every day, come rain or shine.
The complexity of kesi saw many of his classmates abandon the craft, but Hao persevered.
"You have to make sure the pattern is smooth and vivid, and the colors are rich," Hao says.
He spent four or five hours a day learning about the craft at the workshop, and by the time the program finished, Hao had grasped all of the necessary skills and had managed to make some simple, small kesi items on his own.
"It was just the beginning, and I still needed a lot of time and practice before I could pull off a decent piece of kesi work," he says.
For the college's graduation design exhibition in 2013, Hao surprised his classmates and professors by making a tea table mat that integrated the kesi technique with decorations of willow branches, while his classmates all resorted to conventional fabrics.