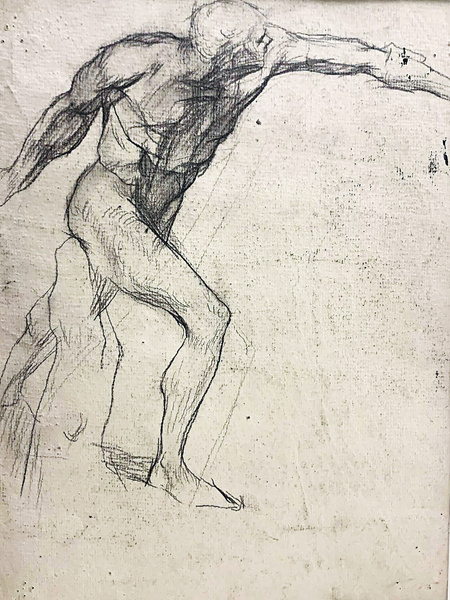 Zhuang explains that Meng had started a small art club during the "cultural revolution" (1966-76) and its members included students from the school and amateur art lovers from around the city.
The movie, Zhuang adds, was widely screened and had a big impact on China's art education at that time.
The alumni of the former Shanghai Institute of Fine Arts (now the Shanghai Academy of Fine Arts) got hold of a copy of the film and converted it into a digital format. The documentary was projected at the exhibition, and a scene from the film was also reenacted on the opening day of the exhibition. Part of the show space was converted into a temporary classroom where art students sketched, providing a glimpse into what China's art education was like in the 1960s and '70s, Zhuang says.
Although the Shanghai Institute of Fine Arts was founded in 1959, the teaching of Western art in Shanghai started as early as the 1800s. When Chen Yifei enrolled in the pre-college program of the school in 1960, he was taught anatomy and sculpture by Zhang Chongren, a sculptor and painter who used to study in Belgium and was a friend of Herge, the Belgian artist who created Tintin.
Yan Wenliang, the founder of one of the first modern art schools in China, the Suzhou Art Academy in 1922, also taught Chen Yifei how to use colors.
When he was alive, Chen Yifei used to imitate Yan's teaching in the Suzhou dialect and repeat his quotes such as,"What is dirty? Dirty is when things appear where they should not be."
Anecdotes from his conversations with Yan are presented in short texts at the ongoing exhibition, alongside sketch books that present the student's drawings and the source references provided by the teacher.