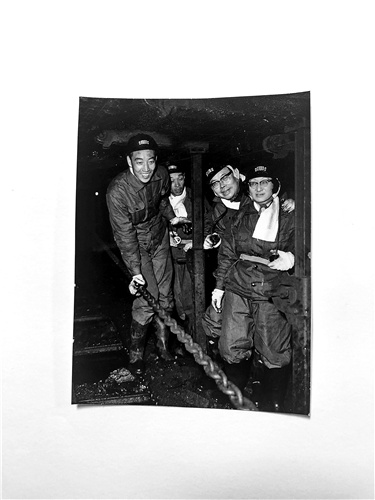 "My parents worked all the time in the restaurants and garment shop," Lai says. "They didn't come home and talk about politics. And since they left the mainland in the 1930s they were not necessarily in favor of the Communists or Chiang Kai-shek. Yet the idea of Taiwan representing China just didn't quite make sense to them. They saw themselves as Chinese first and foremost."
Having devoted much of his time in the 1980s to amassing the museum's earliest collection, sometimes by trawling Manhattan Chinatown salvaging discarded newspapers and thrown-out family photo albums and letters from the roadside, Lai says that "whatever happened between China and the US had repercussions here in the local Chinese communities".
"With the growing antagonism in the US against 'Communist China' and with the advent of McCarthyism in the 50s, every Chinese here in this country was a suspected communist," he said. "The FBI, the Internal Revenue Service and the immigration office were trying to weed out communist sympathizers from whatever information they had. That really put the whole community on edge."
Lee, born to his immigrant parents in New York in 1947, says:"When the red scare broke out here in the 50s, the right-wing, pro-Taiwan elements were very, very good at organizing the Chinese communities, more out of fear than anything else."
The result was "false alignment with Taiwan" and the "repression a number of progressive organizations within the Chinese communities had undergone both voluntarily and involuntarily".
"Leading up to the PRC's admission to the UN, we went over this period of time when we started to rediscover the historical treatment of Asian Americans in this country,"Lee says. "And one of the things that came to light-apart from the Chinese Exclusion Act-was the active attempt by the US government to suppress all progressive and leftist political activities within our community, after the founding of the People's Republic of China. It was also around this time that people started realizing that the PRC was on the rise, that it was developing its political power on a global scale."
Lee became affiliated with "a collective of left-leaning students" in New York that sought to provide basic social services-medical checkups, for example-to those who lived in Chinatown. The Marxist-socialist-oriented group also served as the community's "primary outlet of (Chinese) mainland news".
"What surfaced was a more positive image of China, one that allowed us to take pride in our own heritage," Lee says.
At this time the Vietnam War was raging, and Lai and his fellow high school friends were discussing the possibility of being drafted into the army.