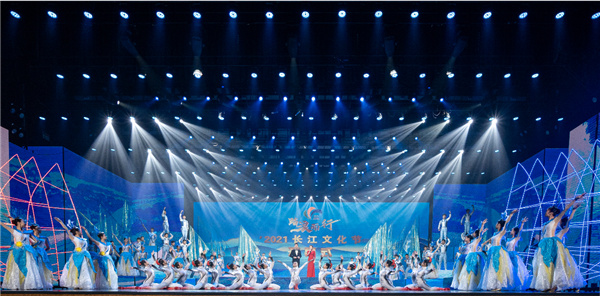 The 2021 Yangtze River Culture and Art Festival kicked off in Zhangjiagang, East China's Jiangsu province, on Nov 14, celebrating the evolutionary history and growth along the Yangtze River through folk music performances and relic displays.
The festival is sponsored by the Publicity Department of the Jiangsu Provincial Committee of the Communist Party of China, the Jiangsu Provincial Department of Culture and Tourism, the Suzhou city government and Nanjing city government.
Nine big events are arranged, including an exhibition of archaeological discoveries from the Yangtze River and an intangible cultural heritage display. Some 100 performances and 150 folk programs from 12 provinces and cities along the Yangtze River are scheduled.
To get more people involved, festival organizers are holding some events online, such as an online call out for music praising the Yangtze River.
The festival, which was initiated in 2004 by the Zhangjiagang government, has become a nationally renowned cultural event and an important symbol of the Yangtze River, according to local officials.
The festival has won an innovation award from the Ministry of Culture and Tourism and is listed as one of the three cultural brands with local characteristics cultivated by Jiangsu province.
Located on the southern bank of the Yangtze River, Zhangjiagang is a county-level city that carries the responsibilities of promoting Yangtze River culture, local officials said.
In recent years, the city has established a national first-class association studying Yangtze River culture and the nation's first museum promoting Yangtze River culture.