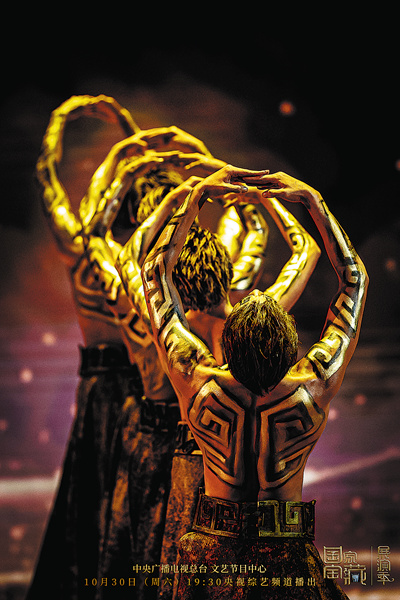 "In the dance, the leading protagonist wears this arm protector as a symbol of unity of various ethnic groups and cultural communication between the western region and Central China," says Xu Rui, a writer of the dance drama. "And we also want to express warmth between people through the dance, which will resonate with modern people thousands of years later."
The dance excerpt also illustrates the friendship between the protagonists of different ethnic groups, which was inspired by another culture relic-a wooden slip for recording documents, also unearthed from the Niya ruins site. On it, archaeologists found four characters: xing wu xiang wang, meaning "Fortunately, we haven't forgotten each other".
"The stage provides us a flexible space to show this emotional connection," Xu says.
The so-called Shangzhou Shigong, "the 10 tributes from the Shang (c. 16th century-11th century BC) and Zhou (c. 11th century-256 BC) dynasties", is a set of bronze wares, which was used to pay homage to great educator Confucius during a national-level ritual of the Qing Dynasty (1644-1911).
Though it seems difficult to adapt this group of cultural relics into dance, these aged artifacts covered in verdigris, now housed in Confucius' hometown of Qufu, Shandong province, still set the imagination of the choreographers free.
Another dance excerpt inspired by the 10 artifacts, Li Hua Xing (Rites Civilize Deeds) focuses on portraying a sacrificial ritual honoring Confucius, and a solemn yet mysterious aura is brought by the group of dancers, who wear the inscribed patterns from the bronze wares.
"Thanks to introductions made in the previous seasons of the variety show, The Nation's Greatest Treasures, people have had some basic understanding of the relics and their historical importance to humanity from various angles," says Wang Shengfeng, a choreographer of the dance excerpt, Li Hua Xing. "And now they can better grasp the core of classical dancing. Such a variety show is also a good way to promote dancing as an art form, which is a hybrid of tradition and modern aesthetics."