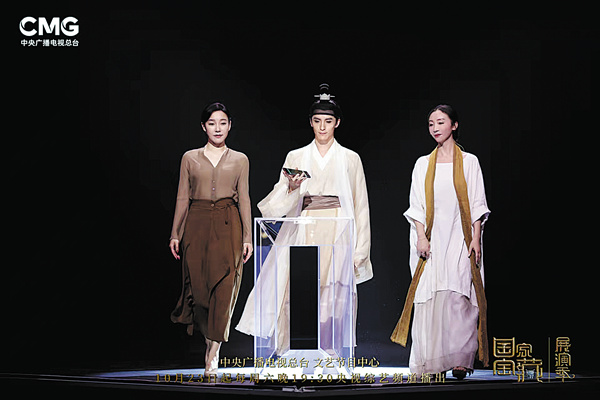 "But we also want something different in the Show Season," she continues. "Other than the relics, the performers and artists are also in the spotlight. The new visual design is to better present the beauty of the show."
During the dance, The Legend of A Panorama of Rivers and Mountains, for example, a flowing and digitized version of the painting is projected on the stage to create an immersive environment for the performers.
"We'd like to be more sentimental in this season," Yu says. "The previous seasons are based on rigid research of historical files. This time, however, artists are able to further express their inspiration triggered by the cultural relics."
As the director points out, the Show Season will encourage more performers to be inspired by cultural heritage and thus bring more relevant performances to the stage.
"These performances can also encourage greater creativity among museums and the cultural heritage sector in the future," Yu explains. "This process is mutually beneficial."
Thematic dances on cultural heritage became a trend on social networks this year. For Spring Festival, Night Banquet in Tang Dynasty Palace, a five-minute-long dance on Henan Satellite TV went viral online. Dancers from the Zhengzhou Song and Dance Theater dressed in Tang Dynasty (618-907) costumes and they were inspired by the ancient glazed pottery figurines in Henan Museum. Follow-up clips were released for other key traditional Chinese festivals this year.
However, for choreographers, it is not easy to turn the aesthetics of cultural relics into a smooth dance production.
"Most references to movements of ancient dances come from frescoes and pottery figurines," says Han Zhen, a choreographer of the dance, The Legend of A Panorama of Rivers and Mountains. "We can find many such references from the Tang Dynasty, which showcase flamboyant aesthetics and can more easily be adapted for modern stage, but speaking of Song Dynasty dance, existing reference points are insufficient.
"Song people's taste is elegant but sort of introverted," Han explains. "So we set a relatively slow and quiet atmosphere. Modern audiences will find something familiar, but they'll also feel slightly detached. That subtle emotion can lead us into that idyllic picture."
In The Legend of A Panorama of Rivers and Mountains, tea-drinking, incense-burning, floriculture and other elegant lifestyles of Song Dynasty literati are portrayed as a reflection of refined cultural taste.
Creators of other excerpts also had the idea to bring cultural relics to life through dance.
For example, a famous Han Dynasty (206 BC-AD 220) brocade piece, which was unearthed from the Niya ruins site in the Xinjiang Uygur autonomous region, offered inspiration for artists to create a story of communication among different ethnic groups along the Silk Road through dance drama Five Stars Rise in the East.
The brocade piece, which was first used as an arm protector, is best recognized for its woven characters, which roughly translate to "five stars rise in the east and benefit China". It was introduced in the second season of The Nation's Greatest Treasures.