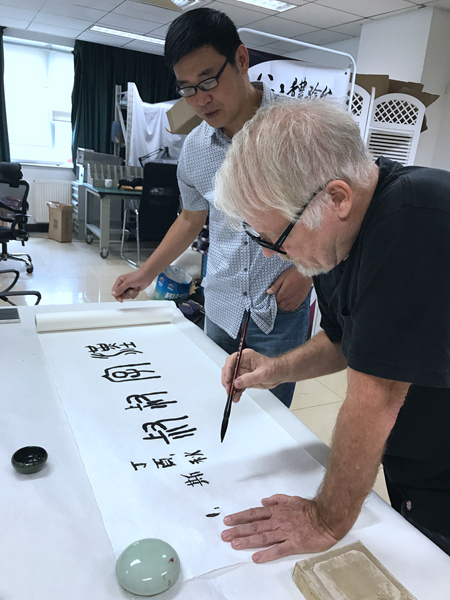 Staying in China
After he visited Tianjin in 2012 to receive an award at an event hosted by Tianjin Satellite TV, Sears decided to stay in China. He worked different jobs in Tianjin, Beijing and Anhui province before finally settling down in Nanjing seven years later in 2019. There he worked with Nanjing Retinar Information Technology Co to transform the images of different forms of the same Chinese characters into animation for teenagers, using augmented reality and pattern recognition.
In June last year, Sears was awarded Jinling Friendship Award by the Nanjing local government in Jiangsu province. Six months later, the 70-year-old received his long-awaited permanent residence permit for foreigners, or the Chinese "green card".
In September, Sears set up his studio in Nanjing as part of the local authority's plan to cultivate talent in the culture sector. The studio focuses on applying AR, animation and artificial intelligence to telling stories of Chinese culture and character origins. They have made more than 60 such videos in English with Chinese subtitles for Bilibili, a video website.
"They have both entertainment value for young Chinese and educational value and can teach the origins of Chinese characters," he says.
"We also want to make videos with a high educational value for other platforms both for Chinese and foreign learners of Chinese characters. This will be a comprehensive set of videos, showing the pictographic origins of all of the basic components of modern and traditional Chinese characters."
In the meantime, Sears has been updating the database. "My philosophy is huodao lao xuedao lao (live and learn), so never stop learning."