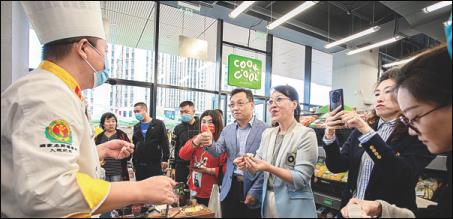 North China's Shanxi province is implementing a new branding strategy to promote its locally produced specialty products.
One of the initiatives of the strategy is the release of a collective brand group called "Shanxi Quality Goods".
The initiative is a branding system involving an appraisal procedure according to the European Union's market standards and the Shanxi Quality Goods label is awarded to a product after it passes the assessment, according to local officials.
According to Guo Xin'an, an official at the Shanxi Market Regulation Bureau, the provincial market regulating authorities and a third-party certifying organization will select some 200 top local brands with self-developed intellectual property rights and high market penetration rates, out of a pool of more than 200,000 local brands.
"Certification is key to the selection of Shanxi Quality Goods," Guo said. "For this purpose, we have established the Shanxi Federation for the Promotion of Local Brands as the certifying organization for the collective branding initiative.
"As the Shanxi Quality Goods are appraised and certified according to EU standards, one of the strictest market access standards in the world, it's no exaggeration to say that such a label is the passport for these selected goods to enter international markets," Guo said.
The official noted that what brands can enter the Shanxi Quality Goods list will be decided by the market instead of the government.
"Despite the fact that the federation was established with the support of the government, the federation is operated according to market rules," Guo said. "It has appraisal boards consisting of experts and consumer and business representatives and it appraises and certifies products according to their quality, customer recognition and market potential."
Wei Hulin, president of the School of Business Administration at Shanxi University of Finance and Economics, is an expert in branding. He said the Shanxi Quality Goods initiative can effectively help local enterprises improve their product quality and competitiveness.
"The use of EU standards in certifying products poses an extremely high requirement of product quality for candidates," Wei said. "It's highly challenging for enterprises, but if they want to enter the list, they must make their best efforts to overcome the challenges."
He noted that such efforts include heavy investment in the research and development of products, an unshakable emphasis on quality control and innovative ways of marketing.
Shanxi-based retail group Meet All, for instance, has launched innovative ways of marketing, including developing sub-brands tailored to various groups of consumers.
Wei said that these efforts will be rewarding for any enterprise that strives for a place on the list.
"If they have made the efforts, they will see their product popularity increase along with the improvement of quality, regardless of whether they are certified or not," Wei said. "As more companies endeavor to win a place on the list, this initiative will eventually boost the overall quality level of Shanxi-made products."
Li Shu contributed to this story.