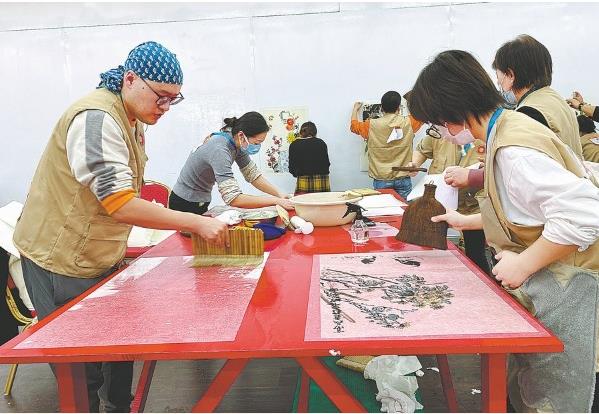 For the archaeological exploration group, the competition was conducted on the site of Lu Kingdom.
Yang Yongjun, a researcher of Nanjing Archaeological Research Institute, found ceramics in the soil.
"Based on my initial exploration, the earth has three layers of different eras," says Yang. During his exploration, he changed from a 2.4-meter Luoyang shovel to a 3-meter one. The shovel is an instrument widely used by archaeologists to help them identify soil structure and determine whether ruins lie beneath the surface.
Li Yongge says he is happy to see many young people join in the competition and they have shown enthusiasm and endurance.
"Although some of them didn't finish their work, they held onto the last minute," he says.
"The spirit of concentration and persistence are vital to artifact protection and restoration technicians."
Among the participants, there were 27 students, with the youngest being 19.
"I didn't know about the cracked-ice pattern window frame before I attended this race," says Huang Qi, a student from the Shanghai Institute of Visual Arts.
In this race, they needed to finish a cracked-ice pattern window frame within six hours.
Although she didn't finish her work, Huang says it was worth joining the competition as she learned a lot from experienced participants.
To promote the profession of protecting and restoring artifacts and cultivating technicians, China released national standards on vocational skills last month.
"Artifact protection and restoration has seen a shortage of talents. The national standards will surely help to improve the personnel structure of the field by drawing more young people to join," says Jiang Daoying, 75, a judge of the competition to restore ceramic artifacts.