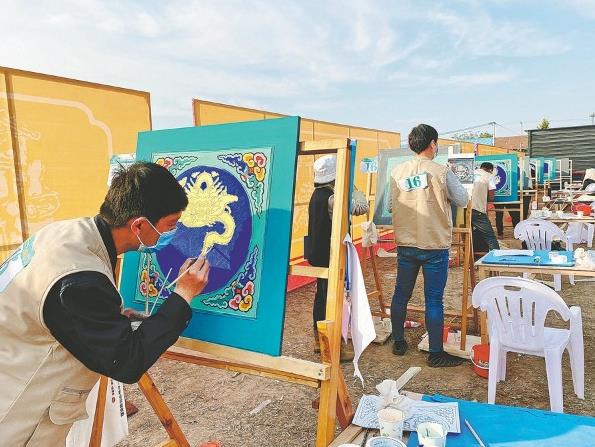 The competitions consist of two parts-theoretical knowledge and practical operations.
In the group of decorative color painting, the results show nearly one-third of the participants didn't have experience in practical operations, Li Yanzhao from Beijing Garden and Ancient Architecture Engineering Co says at the event.
"A person needs to know the basic arts of decorative color painting, which is an important part of ancient architecture and enhanced practical operations," says Li, who has been doing decorative color painting on ancient architecture for more than three decades.
"It takes three to five years to master the rudiments," says Zheng.
As a member of the fourth generation in his family that has inherited the skills of decorative color painting, Zheng has worked in the area for 15 years. His major works include restoring the painting at a major gate of a Confucius temple.
"It's a profession that requires a great deal of patience and endurance, and you need to know the history and every detail of the painting artifacts," says Zheng.
The event provided an opportunity for people to practice and learn from each other with real artifacts, says Li Yongge, head of the competition judges.
In the group of restoration of ceramic artifacts, all the items provided to participants are artifacts which suffered different degrees of damage.
Participants needed to analyze problems to the artifacts and restore them. They also need to describe the restoration process with information such as words and photos.