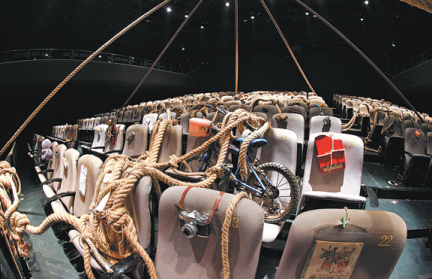 Everyone at the reunion of primary school classmates was wondering where Martin disappeared to so many years ago.
And, as one attendee opens an old box of cookies, the container becomes a memory box of their own, full of childhood memories.
This is a scene from the experimental drama Being and Time 2.0 that premiered at the Guangzhou Opera House in Guangdong province's capital city.
The performance was one of 60 selected plays, dance dramas and operas performed during the recently ended Guangzhou Art Season.
The work is inspired by German philosopher Martin Heidegger's masterpiece, Being and Time, in which he attempts to explain the basic questions of "the meaning of being".
As the sole member of the audience, viewers of the immersive play are not part of the cast, but are required to interact with the leading performers onstage.
Old items that remind the audience members of their childhoods, such as stuffed toys, candies, a cassette recorder and a violin, are set on all 300 seats of the theater.
The stage set is a cozy and small bar. Participant and performer sit beside a round table, chatting like old friends while drinking wine. They begin to exchange secrets and pour out the ups and downs of life as they become familiar with each other.
The drama is unrestricted by a script because most conversations are improvised. It's more like an in-depth dialogue between the participant and the performer, offering a platform for the former to recount their story onstage.
Actor Li Jialong and actress Wang Xiaohuan took turns playing the leading role, and audiences could choose between them when buying their tickets.
Tickets for all 40 performances, that ran between Oct 1 and 10, priced at 680 yuan ($105) each, sold out online within 10 minutes.
About half of the audience members were born after 1995 or even after 2000, and 30 percent were born between 1980 and'95.
They interacted with the leading performer freely, and the length of each performance ranged from 70 to 140 minutes, depending on their actual conversations.
"It's a breakthrough of theater-the whole cast serves only one audience member," says avant-garde theater director Wang Chong, founder of the Beijing-based Theatre du Reve Experimental.
He has directed two experimental plays that limit the number of audience members to four and 11, respectively.
"It's like an artistic church where you can heal your soul and relieve pressure," he says.
"Being here will arouse precious memories hidden behind the mundane routine of busy life and urge participants to think about how they became themselves now and what they'll be like in the future."
He has watched similar plays involving one performer and one audience member abroad, but they only last for about 20 minutes.