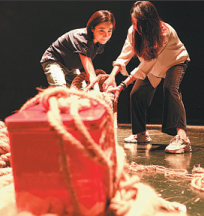 There are also seven supporting roles, including his. They go onstage to play popular childhood games with the participants, such as jumping rope.
While Heidegger's philosophical book is difficult to read, the drama seeks to guide its audience to ponder such issues as "the existence of self" through recalling childhood memories.
Wang Chong says less than a fourth of the content is about the story of "finding Martin". The rest is about the memories of the participants and the performers that surface during their private conversations.
"The core is not about plot but sincere communication between the participants and performers in a private space. For most of the time, only the two of them are onstage. It's a theatrical performance that allows you to reflect on your own life experience," he says.
When participants are asked what they'd say to their 12-year-old selves, some simply reply, "Having fun is more important than studying."
They also need to think about what they want to say to their future selves, 20 years later.
Audience members have different careers.
One is a fresh university graduate at a crossroads in life as a newbie at her workplace. Another is a scalper-he says he loves watching dramas and explains that reselling tickets is not his primary goal.
Some have shed tears onstage. Two have even written letters to the theater group to share their feelings and offer suggestions about the drama.
Actor Li Jialong would first introduce himself to the participant onstage and engage in idle chitchat. To his surprise, many people are very willing to share their life stories.
"Martin's story is like a trigger, allowing them to recall their own memories. Some conversations are secrets just between us. In life, it's not easy to start such an in-depth talk with a friend unless you've had a close association for at least half a year," Li says.
"While performing, it's like I'm wearing the mask of the character and my real self is behind that. When there's only one audience member and we have to have eye contact, it's difficult to hide myself. That's the challenging part for me."
He has enjoyed himself to the fullest onstage and realizes that every individual is unique, with wonderful stories of joy and sorrow, irrespective of age, gender or profession, he says.