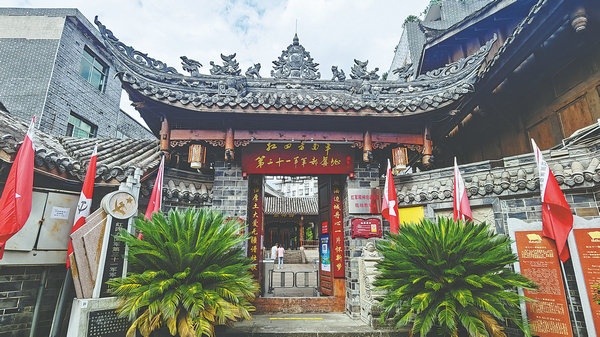 Although Mumen is remote and mountainous, the small town in Wangcang county, Sichuan province, receives some 300,000 visitors each year.
People come specifically to visit the Memorial Site of the Mumen Meeting, where many slogans engraved on stones in the 1930s by the Fourth Front Army of the Red Army are on display, according to Shi Xiaofang, a young female guide.
During its more than two-year stay in Wangcang, now a county in Guangyuan, the Fourth Front Army left behind many stones engraved with slogans interpreting policies of the Communist Party of China.
In late June 1933, over 100 officers of the Fourth Front Army convened a six-day meeting in a Buddhist temple in Mumen, summarizing the experience of winning the fight against the encirclement and suppression by the Kuomintang army and making the decision to expand the Fourth Front Army.
The army had built the second largest revolutionary base of the Soviet Republic of China in the border areas of Sichuan and neighboring Shaanxi province in the early 1930s.
In 1931, the provisional central government of the Soviet Republic of China was established in Ruijin in Jiangxi province, and the central revolutionary area was the largest of its kind.
About 38 kilometers away from the Memorial Site of the Mumen Meeting is the county town of Wangcang, where the 1.5-square-kilometer China Red Army Town is located.