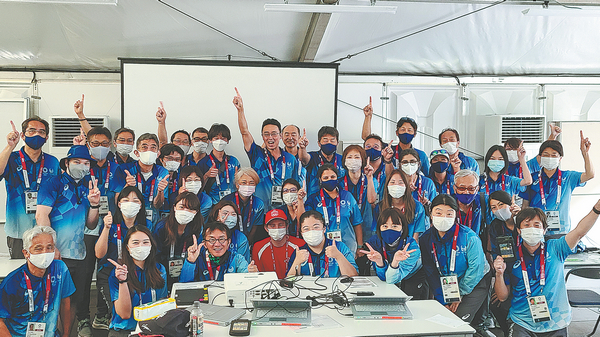 When sweat-soaked athletes were competing for medals and shattering records in the Tokyo Olympics and Paralympics in July and August, volunteers clad in blue polo shirts emblazoned with the Olympics logo were stationed at every corner in and outside the venues to facilitate the smooth operation of the Games.
Among them was Chinese volunteer Hou Jiayi, who lives in the town of Nasu in northeastern Japan.
She said the work gave her a different perspective to view the gigantic sporting event, giving her a sense of accomplishment after lending a helping hand and allowing her to meet friends from various cultural backgrounds.
This was the third Olympics for Hou, who worked as a volunteer translator for media at the Sochi Winter Olympics in 2014 and the Rio Summer Olympics in 2016.
"Serving at the Olympics frees me from daily life, and I am able to immerse myself in a completely different culture for a while," Hou said.
The seasoned volunteer witnessed an orderly and well-organized Sochi Games while experiencing a relaxed atmosphere at the Rio Games, which she described as a "colorful world".
And at the 2020 Tokyo Olympics, which Hou said she was destined to join as she is familiar with the country and she could give full play to her language skills-she speaks fluently in Chinese, Japanese and English.
Shortly after she went to Japan and started to work for a German company in Nasu three years ago, Hou applied for the volunteer position and went through a series of interviews and tests and joined more than 70,000 registered volunteers for the Games.
The 28-year-old was responsible for recording technical data at the Ariake Tennis Park during her ten-day volunteering service. The results could predict the outcome of a tennis match. It was a position that combined her enthusiasm for tennis with her engineering background.
"Recording world-class games from such close quarters is different from watching them on TV. The athletes are incredible."
After volunteering for eight tennis matches at the Paralympics, Hou said her impression of Paralympians changed.
When recording a women's doubles match in the wheelchair tennis competition, she was astonished by the speed and power of a Chinese player, who she said struck balls as fast as athletes without disabilities.