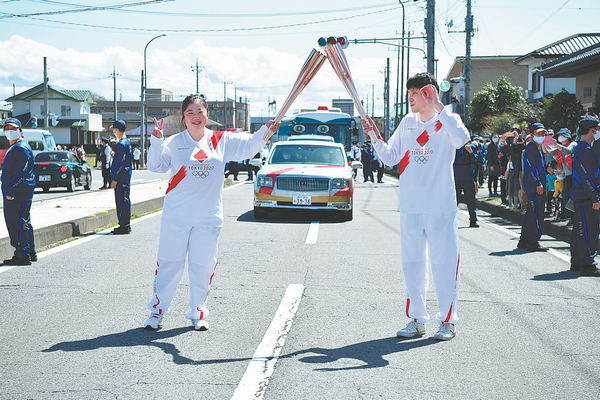 "I felt like her wheelchair was flying," Hou added.
She was already enlightened by the volunteers' training before the 2020 Olympics, which taught volunteers how to change stereotypical outlook on athletes with disabilities and contact and communicate with them with a sense of equality and respect.
"We are just different, but equal, so sympathy is unnecessary."
Three months before her volunteering service, she was a torchbearer for the 2020 Olympic Torch Relay, the only foreigner selected for the service in Nasu region.
As a torchbearer, Hou said she wanted to show the charm of Nasu, a ski getaway and home to the region's hot springs, to the outside world from the perspective of a foreigner, and to serve as a bridge connecting people from Nasu with visitors from around the world.
"The Olympic Games not only promote sports exchanges but also the interaction of different cultures, and while introducing the host country to the world, local people can also better understand the outside world."
Earlier, the Japanese government and the International Olympic Committee announced postponing the Games due to the COVID-19 pandemic, the first postponement in Olympic history. While Japan retained the year 2020 in the name, spectators and many foreign volunteers were not allowed in venues, following health protocols.
Hou said such measures are understandable because there was no better choice, and fortunately, the Games were held despite the pandemic.
Hou stayed in a hotel in Tokyo as a volunteer, taking trains to the tennis park. She worked remotely for her full-time job and managed daily life and the volunteer service well.
"But I was exhausted as I had to get up very early to finish my work from the hotel and then head to the venue, without time to take a break."
Hou said while she noticed some problems in volunteering such as "ineffective communication, delayed information release, improper arrangement details and lax implementation of quarantine regulations", she persevered due to her passion for the work.
"I have been doing community service since high school when studying in the United States," Hou said, adding that the activities have boosted her life experience.
After going to university, she began to apply for overseas volunteering programs, and in Sochi in 2014, her story with the Olympics began.
At that time, there were only 30 Chinese volunteers there, and most of them were students in Russia, she said.
Hou has set up a nonprofit organization and uses social media to share information on international volunteering programs and contacts professional organizations to provide training for volunteers, so that she can get more Chinese people to participate in international events.
Engaging in overseas events requires good foreign-language skills, she said, adding that those who hope to be volunteers should also have a kind heart and the willingness to offer help as it is an altruistic work, and volunteers must also encourage each other.
Often viewed as unsung heroes, she said that volunteering service is nonprofit, and the reward is the feeling of joy and satisfaction that cannot be measured by money, a broadened view of the world, and interaction with different cultures.
The number of Chinese volunteers at the Olympics has also increased. At the 2016 Rio Games, she said there were more than 300 Chinese, and this year in Tokyo, despite the pandemic, one volunteer group she joined in had nearly 400 people.
"I hope my experience will influence more people."
The curtains have come down on Tokyo 2020, but Hou will continue to follow the Olympic Games.
"I'm looking forward to returning home and being part of the 2022 Beijing Winter Olympics and expect to see something different in the 2024 Paris Summer Games."
Contact the writer at zhoujin@chinadaily.com.cn