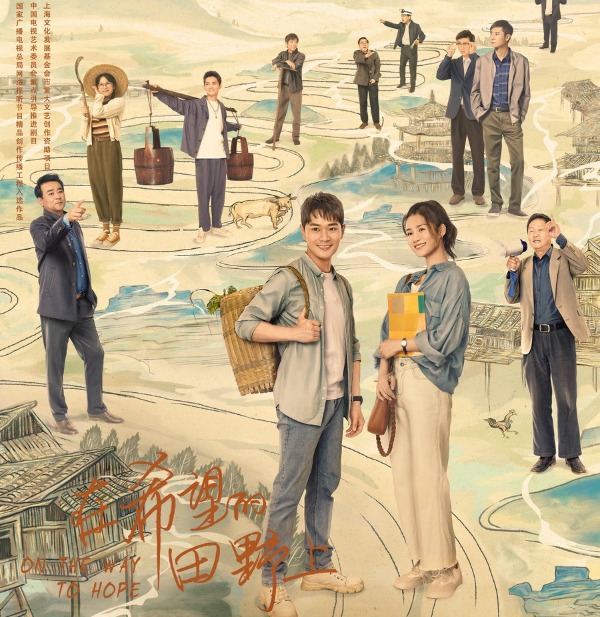 As the latest series to reflect China's efforts in revitalizing rural areas, On the Way to Hope -- a 24-episode online drama -- began its run on the streaming site Tencent Video on the evening of Sept 15.
Starring Cao Jun and An Yuexi, the tale follows a Shanghai university graduate' s return to his hometown, a far-flung village nestled in the mountainous areas in Southwest China's Guizhou province, to conduct academic research.
After seeing locals still struggling with poverty, the protagonist -- portrayed by Cao -- decides to decline a generous job offer in a big city to stay on in the village to work as the leader of a working team assigned to help villagers lead a better life.
His girlfriend, a Shanghai native played by An, also joins hands with him to work as a teacher, helping local students to expand their horizons and boost their interest in studying.
The series marks the first time to team up Cao and An, respectively known for the revolutionary drama Glory and Dream and the fantasy drama Eternal Love.
Veteran scriptwriter Rao Jun said that he had once heard of many real conflicts and problems caused by poverty in the countryside, giving him the inspiration to conceive of this tale set in the fictional village of Baiguo, where the locals' greatest challenge involves facing a shortage of water.
Besides, the "left-behind children" -- referring to those kids mainly cared for by grandparents because the parents left to work as laborers in big cities for higher incomes -- are also featured in the series, aiming to spark in-depth thinking about the significance of alleviating poverty and raising the quality of rural education, according to the producers.
With mouth-watering close-ups of local delicacies such as rice tofu and spicy chicken as well as scenes featuring picturesque landscapes in Guizhou's mountainous areas, the series has also praised by some netizens as a visual feast, allowing viewers to "travel" through the unfolding episodes.