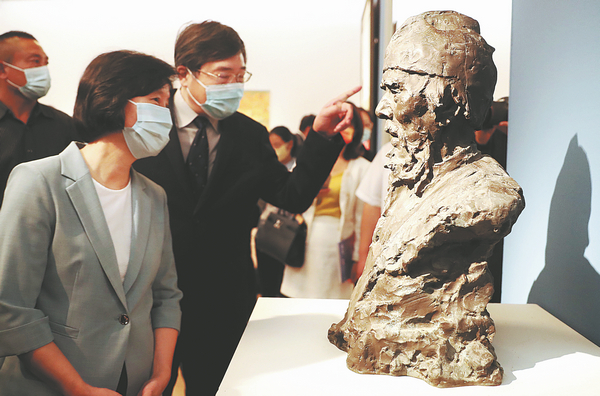 Sidorov and Russian sculptor Andrey Kovalchuk held a joint exhibition at the NAMOC in 2019, and then donated their works to the museum. Kovalchuk's work, An Oil Worker in the 1940s, made of bronze and stone, from that donation, is also on show.
"In their works, artists portray the beauty of the land they are rooted in and nurtured by," Wu says. "They share with us a dream, an ideal of the most promising vision of society."
The exhibition also shows recent works by female artists to accentuate the increasing influence of women in social development and international cooperation.
Meanwhile, dozens of paintings by children from SCO member states are also displayed at the NAMOC's public education space. In 2005, the NAMOC also held an exhibition to show children's paintings which were inspired by the folk tales from six SCO member countries.
Wu says, "Walking from the works by prominent artists to those created by small children at the show, we feel how different cultures have moved forward, and we find the traces of human progress.
"The exhibition expresses a faith in the vision of a community with a shared future for mankind. It is an encouragement for people to work hard on strengthening the friendship among people and nations."
linqi@chinadaily.com.cn