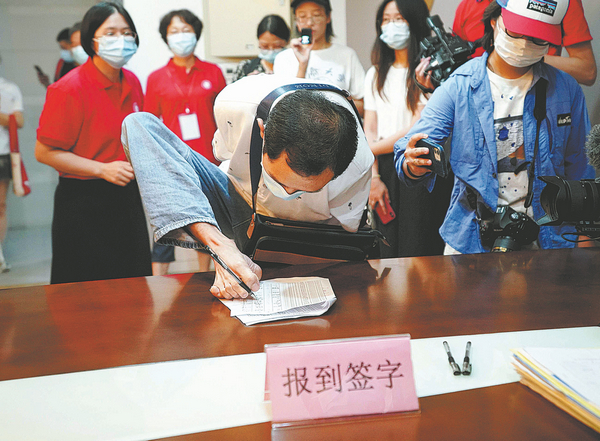 Peng Chao, a 26-year-old man whose arms have been amputated, recently became an online sensation after a video of him went viral.
Captured by thepaper.cn, the video shows Peng going through the procedures for registration day at Tongji University in Shanghai on Aug 29, using his right foot to access the health QR code on his phone, write his name, and pull the mask below his chin for nucleic acid testing before entering the campus.
Peng is pursuing his master's degree in law at the university.
Many people online lavished praise on Peng for being able to complete the process smoothly on his own despite the presence of a volunteer who could help.
Peng lost his arms 20 years ago after accidentally touching a high-voltage power line while playing with friends at a factory.
"As parents, what we can do is to accompany him, encourage him every day, and tell him stories of other people in similar situations overcoming the odds," says Peng's mother, who is surnamed Wen.
The constant encouragement helped Peng to become an independent person with a positive spirit, and this, in turn, saw him excel in his studies. In 2015, Peng was admitted to the law faculty at Sichuan University.
During his years at the university, Peng developed the habit of reading poems and books in his spare time. This new hobby then led him to attend the first Chinese Poetry Conference, a domestic poetry reciting contest held by China Central Television, in February 2016.
"Poems show me encouragement and power. I love poems by Li Qingzhao, a Chinese poet from the Song Dynasty (960-1279)," he says.
Peng's undergraduate life was also enriched by volunteer activities and soccer.
Peng chose to study at Tongji University in Shanghai because he says the cosmopolitan city is full of opportunities.
The university has provided him with a dorm equipped with disabled facilities on the first floor.
"I'm grateful for the convenience offered by the school. I believe I can live on my own and want to be treated like everyone else," he says.
"I'll study hard to improve my professional skills in law, attend exchange programs and pursue a doctoral degree after graduation. I might even consider studying abroad."