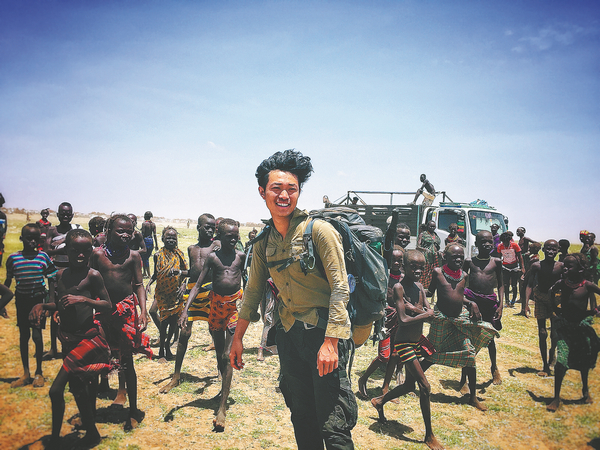 On the flip side, the generosity of others shone through, such as being invited to see a mining and petrochemical plant by its boss, who gave him a free ride in Mongolia, and being bought bread and coffee by two people in Sweden. In Denmark, a senior official with the UN invited him to his home to join a family gathering.
"All of it was very touching, especially when being in a foreign land," Li says.
Completion of the European tour emboldened him to see the rest of the world the same way.
Li made a plan to, within three years of 2018, travel to 195 countries, read 195 books and engage in 195 charity programs.
Just five days after completing his European adventure, he embarked on a trip to explore Africa from Egypt.
It was a tougher prospect than Europe. Li didn't have a phone signal for over 10 days when he was in tribal areas. He also got sea sick on a cargo ship from Tanzania.
Arguably his worst moment came when he had a near miss, after unwittingly setting up a tent on the path of wild elephants.
"The tent was trampled late at night, and my camera, kettle and pot were all smashed," Li says.
For more than half a year, Li experienced the lifestyle of primitive tribes in Africa, saw a spectacular waterfall in Zimbabwe, and enjoyed the grandeur of the African wildness. In Ethiopia, he lived in a chest-high thatched hut and took a boat with local villagers to catch fish at sea and camped in the Sahara desert.
"There is something magical about Africa, which always makes you unknowingly remove your burdens and constraints," Li says, adding that he loved its close contact with nature and the simple and happy lifestyle.
He also used his income from travel writing to buy shoes, snacks and books for African children he met.
Li then went to North America before the pandemic hit, at which time he had achieved about 50 percent of the goal he set in 2018.
During his travels, Li made videos and documentaries and posted them online, attracting 500,000 fans on Douyin, the Chinese version of TikTok, and 900,000 fans on Kuaishou, another video-sharing platform.
Huang Jianle, a high school student in Shenzhen, Guangdong province, has been drawn to Li's adventurous nature and spirit of persistence, following Li for over four years. "I am a big fan and very fond of Li's videos," Huang says, adding that his own experiences have also been enriched through better understanding of the culture, customs, views and gourmet food shared by Li on his travel videos.
Li's endeavors have gradually won over his parents, who went from determined opposition to understanding and supporting.
"It is good to see him mature and develop a strong heart," says his father, Li Shugang, who believes that the difficulties and setbacks during his son's adventures will serve him well in the future.
Speaking about his future plans, Li Xinyong says he would like to drive from the west of Africa to the south, and sail across the island countries of the Caribbean.
"I'll keep making short videos, with a special focus on documentary development," Li Xinyong says.
"The goal is to gain a wider vision and a better understanding of the world."