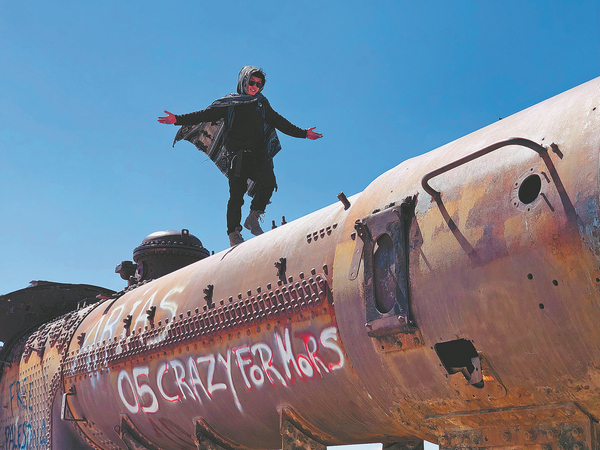 Later, he became a guide on similar budget trips.
"It was mostly about planning routes and taking care of logistics, in case clients couldn't finish their trips," he says.
A turning point came when he met an 18-year-old German on his team-Li was surprised after he learned that his foreign guest came all the way from Germany to China mostly via the help of good-hearted drivers.
It planted in Li the seed of an idea: traveling the world the same way. "I was like, if he can, why can't I?" Li says.
He resisted opposition from his family when he told them about his plan to hitchhike from Beijing, across Europe, to Paris.
The main purpose was to interact with strangers from different backgrounds and understand their customs, way of life and hear interesting anecdotes, Li says.
He believed that he could also experience a different side of the world through this method of travel.
Li packed light and printed out hitchhiking signs in the languages of the countries he would travel through, before hitting the road in September 2017.
He spent more than 100 days, and a modest 2,000 yuan, thumbing his way from Beijing to Europe.
Most of the spending was on food and bus fares. When Li reached Mongolia, he was surprised that locals were more than happy to give him a free ride.
"They took me in once I told them I was going to Moscow," he says, adding that people are more likely to help one another in less populated areas.
Li traveled in cars, trucks and even agricultural vehicles over the next 15 days on his journey to Moscow. He set up tents or couch surfed along the way to save money.
He went through Finland, Sweden, Norway, Denmark, Germany, the Netherlands, Belgium and Luxembourg, before finally arriving in Paris on Nov 2, 2017.
Li says he couldn't help but cry when he stood under the soaring Eiffel Tower, and the experience gave him a renewed sense of determination and the ability to persevere in the face of difficulties.
After France, Li continued exploring Europe visiting Portugal, Spain, Andorra, Monaco, Italy, San Marino, Switzerland, Liechtenstein, Austria, the Czech Republic, Poland, Lithuania, Latvia and Estonia. On Jan 19, 2018, Li concluded his journey to Europe.
During the trek of more than 13,000 kilometers, Li was stunned by the beauty of the heavy snow in Siberia, as well as the Alps, the romantic Aegean Sea, the tranquil water city of Venice and the ancient Roman ruins.
The destinations more than compensated for the mishaps that happened along the way, including getting trapped in an emergency area of a Swedish expressway for six hours by heavy rain, which soaked his whole luggage and all his documents. At the border between Germany and the Czech Republic, he was robbed while trying to set up a tent under a bridge at night.