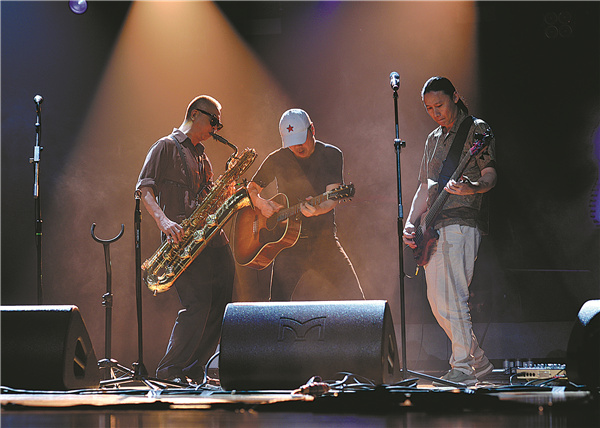 "When I worked on my songs, it was a process of communicating with them. They evolve by themselves and have their own directions. I just follow them. It was a pleasant and comfortable process. However, when the songs are released they have nothing to do with me. In the marketplace they have their own destiny, and I don't care about that.
"I reckon those who initially love this new album may lose interest in a few years and go back to my early albums."
For Cui, each album is a reflection of his own evolution as a musician. From when he made his second album, Solution, released in 1991, he started to ignore the market and do his own musical experiments, he says, which are about his own aesthetics on music.
"My first album was pop rock, which appealed to the mainstream music market. But when I tried to do punk rock in my second album, some people considered it a betrayal. People wouldn't stop questioning and doubting. I'm clear about what I want to do; over the long term you can't do just one thing."
Born into an ethnic Korean family with parents who were both artists, Cui took up the trumpet at the age of 14, following his father, and in 1981 he began his musical career, joining the Beijing Philharmonic Orchestra.
During his six years with it he began writing some of his own songs and formed a band with six other musicians, one of the first of its kind in China.
His first album, Rock 'n' Roll On The New Long March, released in 1989, was a huge success, becoming a classic, and would eventually inspire a string of Chinese rock musicians.
Cui has released seven full-length albums, he says, and these have allowed him to try a diversity of musical genres, including hip-hop, jazz and reggae.
He has also directed movies, including Blue Sky Bones in 2013.
At 60 his eyes are still wide-open. He loves talking with young people and opens up to them, he says.
"Last night I attended a young man's birthday party, where I met lots of young people. We chatted and one of them told me that he cried when he listened to my song Under Sun Dreaming. I asked them what kind of music they like and I wrote down the bands' names they mentioned, mostly Western bands, and I listened to their songs after I got home.
"I would love to share my knowledge and experience about music. There are many talented young musicians out there, and we work together."
Cui is proud to say that he has never stopped performing live, either at small venues or on big stages. He enjoys traveling from one city to another performing constantly, he says.
"No matter the size of the audience, I feel excited when I perform on stage. I can say that touring now is better than ever. I know how to use my voice, how to communicate with the audiences and how to deliver my messages through live music."
With the release of the new album, Cui mentions the Live Vocal Movement, which he established in Beijing nearly 20 years ago, pressing for a ban on lip-synching. However, this day lip-synching is used in performances on TV, reality shows and online shows.
"The market decides what's popular and sets the trend," Cui says. "Young people are easily attracted to flashy stuff that companies pour tons of resources into designing. Real music is about taking risks; this incredibly popular commercial stuff is just about gaining the maximum number of clicks."