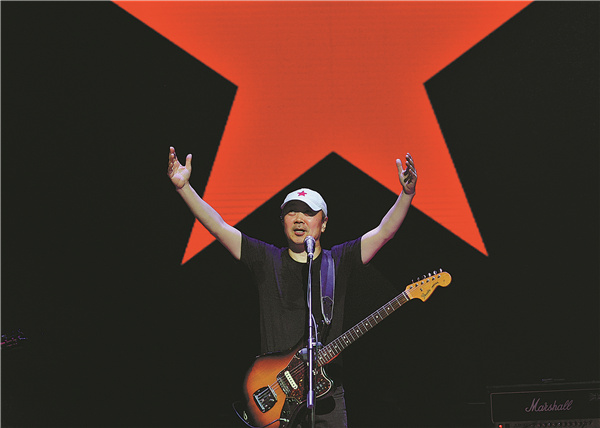 In addition to songs with observations that have an acerbic edge, he also wrote songs such as Doomsday Beach, which are poetic and romantic.
In the preface Cui wrote for this new album, he said: "Time bending, emotion compressed. The past is like ice and the present is fire.… Is 2021 a good time to release an album? … By the time I finished the eighth song, I had no energy left, … which is to say I felt I was balanced."
He quotes the lyrics of the song Doomsday Beach in the preface:
I long to be blown by strong winds,
I long to be pushed by big waves,
But the sea is as dry as the wind and the wind is as tender as water.
Along with his band members, including an old friend, the saxophonist Liu Yuan, and the young drummer Xu Zhitong, Cui devoted much of his time working on the melodies and rhythms of the songs.
"It really matters to me because sound is feeling," he says. "You physically move with the melodies and rhythms, which is one of the best things about music. Lyrics are just the enunciation of words that fit the rhythms."
The new album has received mixed reviews among Chinese rock lovers, many highly impressed with the effort, but others calling it eccentric and impenetrable.
Mixed reviews are nothing new for Cui. His last album, Frozen Light, which came out six years ago, confounded many listeners to the extent that some of his fans deserted him.
Cui insists that he feels great about Frozen Light, as he does about A Flying Dog.