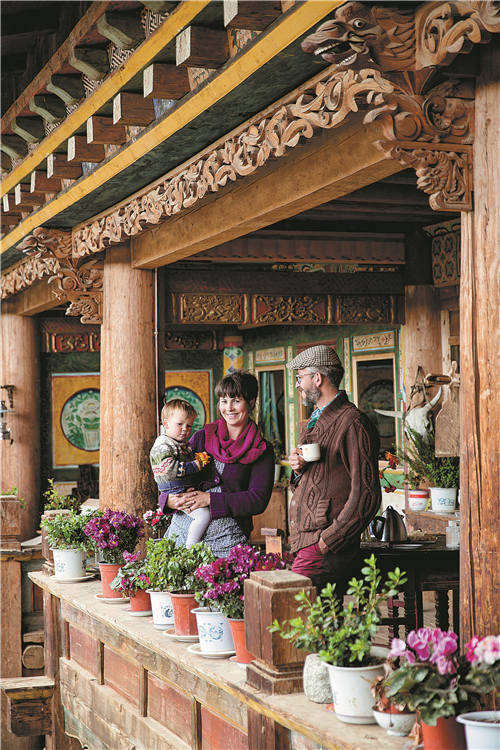 Glamping in Shangri-La helps tourists discover a love for the great and challenging outdoors, Yang Feiyue reports.
Constantin de Slizewicz has been anxious to come back to China since early 2020. For the past decade, the Frenchman has been running a "glamping"-luxurious camping-business in Shangri-La in Southwest China's Yunnan province, but in December 2019, he went back to France for a vacation.
"We usually go back home for two to three months during the winter period, since the tourism business takes a break due to the weather," De Slizewicz says.
Following the outbreak of COVID-19, however, he found it difficult to return. Fortunately, his business partner Guillaume de Penfentenyo was able to get a flight to China at the end of February, before restrictions came into force.
De Slizewicz, therefore, has had to pay close attention to his beloved glamping business in China from afar.
Previously, most of his customers were international guests from outside the country who were drawn to the beautiful landscape and scenery in Shangri-La, with its high mountains, deep valleys and rivers, as well as being infused with Tibetan elements.
The city in Diqing Xizang autonomous prefecture sits on the northwestern tip of Yunnan, bordering Sichuan province and the Xizang autonomous region, with an average altitude of 3,550 meters. The highest mountain peak stands more than 5,500 meters.
Since 2001, the airport in Diqing has enjoyed direct links to several provincial capitals, including Lhasa in Xizang, Sichuan's Chengdu, Yunnan's Kunming, Guangdong's Guangzhou, alongside the municipalities of Beijing, Chongqing and Shanghai.
Despite the pandemic, and even in his absence, De Slizewicz's company has managed to attract new clientele-domestic tourists who, unable to travel abroad under the circumstances, have discovered the joys of glamping.
"Chinese travelers have turned to us for adventurous experiences in the region," he says.
Last year, his team offered summer camps in Shangri-La for Chinese students who couldn't travel abroad. In autumn, many domestic travelers also signed up for his company's organized adventures deep into the wilderness.
Food was provided and hot dishes, including fried rice, were offered to cater to the tastes of Chinese travelers.
De Slizewicz first visited China in 1996 when he engaged in a three-month internship in Beijing.
He was impressed by the Chinese people around him.
"There was an optimism going around and everyone seemed so happy," he recalls.
After the internship was over, De Slizewicz applied for a gap year at his French school and came back to Beijing to study the Chinese language while traveling in the south of the country.