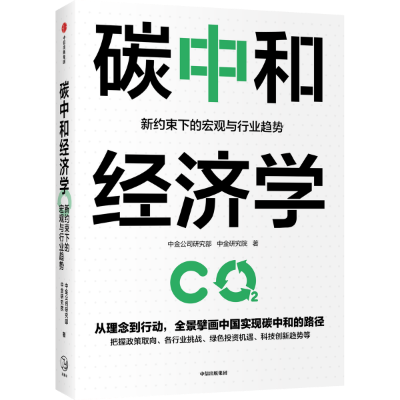 Realizing carbon neutrality is an important aspect to turn the economic operation mode, ways of thinking and transformation of policy framework into a high-quality development stage, said Peng Wensheng, chief economist of China International Capital Corp.
He was speaking at a livestream dialogue on Aug 19 highlighting China's responsibility and future investment opportunities when the country endeavors to achieve carbon neutrality, which means to strike a balance between carbon emissions and absorption, by 2060.
During the event CICC Global Institute launched a new book entitled Carbon Neutrality Economics: Macro and Industry Trends Under New Constraints, amplified based on a homonymous report the joint venture investment bank released earlier this year.
The book analyzes effective paths, specific measurements and impacts likely to take place when decarbonizing the country's economy, pointing out that the key question is how to effectively achieve the goal at a low cost.
Above all, the author team introduces the concept of green premium as the basic analyzing tool alternative to carbon pricing that has often been brought up on the topic. The concept refers to the difference between the cost of clean energy and that of fossil fuels.
It proposes setting peak carbon emissions as a range rather than a rigid number, which they estimate can reach 9.9 billion to 10.8 billion metric tons. Even the minimum will bring huge pressure to carbon reduction efforts.
The complicated project requires fundamental changes in traditional ways of production, lifestyles and consumption patterns, as well as overall considerations on multiple factors such as efficiency, urgency of development, priority to national economy and people's livelihoods, competitiveness, and governance cost, says Zhang Yuzhuo, an academician of the Chinese Academy of Engineering and chairman of Sinopec.
Looking into high-emission industries like energy, manufacturing and transportation, Peng says the most important starting point is to improve electrification and clean power generation, followed by energy conservation and emission reduction and better social governance, apart from optimizing the carbon market mechanism.
And the main challenges on the way are to balance short-term impacts and long-term benefits, regional adjustment and overall decline, efficiency and equity, as well as to increase international cooperation.
Speaking from a macroeconomic perspective, the new economic expressions put forward these days show that the country is reflecting on how to improve economic efficiency and tackle the challenges brought by global market economy over the past 40 years, he says.
"Not only China, but also the United States, European countries and even the whole world are working on this general direction, just in different ways."