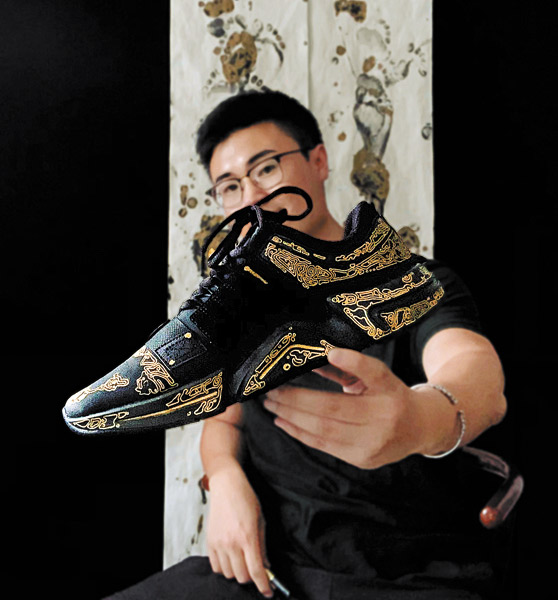 On July 21, Chinese sportswear company Erke announced a 50 million yuan ($7.71 million) donation to flood-stricken Henan province, where more than 300 people died. Within a week of the donation, netizens united to give the struggling company great support. Statistics show in 36 hours, the company sold over 67 million yuan worth of goods on its social media platforms.
Zhao Hanqing is one of the consumers who showed his support to the company by purchasing a pair of shoes and he did more than that. The 26-year-old artist, who studied painting as a teenager and graduated from the School of Experimental Art at the Central Academy of Fine Arts, decorated the shoes by painting on them. His hand-drawn illustration has won lots of fans after he shared photos of his shoes on his social media platforms.
Fans loved Zhao's combination of his original painting with Erke's shoes. With many people sharing the photos online and sending them to Erke through social media, Zhao, surprisingly, got contacted by the company, which invited him to collaborate on bringing more designs for its products.
On Aug 9, Zhao was announced by Erke as its first signed artist, which is part of the company's project called Erke Youth Co-Creation Program. The same day, Wu Rongzhao, Erke CEO, welcomed Zhao by posting on his Sina Weibo account, saying, "Welcome Zhao Hanqing to Erke family. Let's dream and create together."
Zhao says, "When I saw people's warm feedback about my painting on the shoes, I was happy and hoped that Erke could see it. But I didn't expect it to really happen."
He adds that he bought the shoes in Erke's store in Anshan, Liaoning province, where he was born and raised.