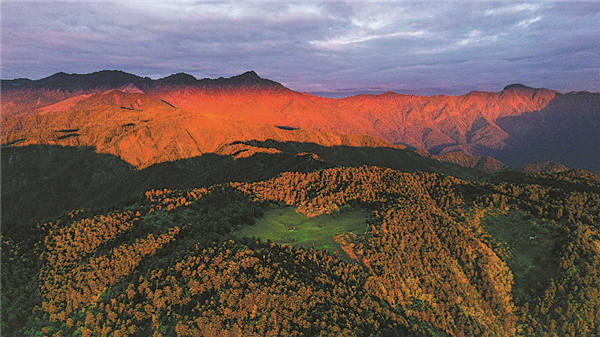 Preparation and expectation
Each team member had to carry a backpack with an average weight of 20 kilograms, including camping equipment, cameras, and drones, along with surveying and mapping tools.
The only female member of the team was Tan Jing, who was in charge of topographical surveying. She's also an orienteering athlete and adept at rock climbing.
Along the way, they had to carefully measure and record data about Heizhugou's landforms, the geomagnetic anomaly, suitable places for camping, and take photos and make short videos about the flora and fauna.
Liu recently released a scientific research report about their discoveries at a news conference in Beijing.
As well as experts in the fields of extreme exploration and outdoor photography, the team included five local guides, who are familiar with the terrain. They also doubled as porters, carrying the team's food.
Liu and the team started their preparations in March, with support of the local county government and Heizhugou National Forest Park.
They went to Heizhugou four times, talked with hunters who have been deep into the forest, and held conferences with experts of different fields.
They carefully chose the date to start the journey, to avoid the rainy season, but it still rained from time to time. Their clothes were almost always wet and rocks were very slippery.
They had to trek through tough terrain and ford streams in the foggy mountains, dealing with various difficulties along the way.
"It was hard and time-consuming to hack our way through the dense arrow bamboo forests. One day we only advanced 3.7 kilometers in nine hours," he says.