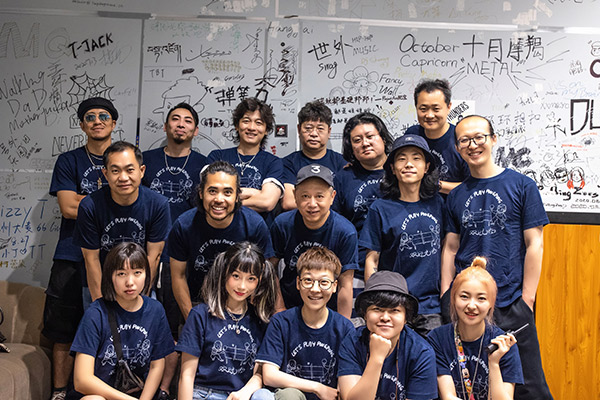 One of Liu Kun's favorite foods is his mother's handmade noodles which combine flour with wormwood juice. The commonly used plant in Lanzhou, Northwest China's Gansu province, is also a herb with multiple functions, such as antioxidant and blood depurative. Besides cooking with it, his mother often burns the plant as incense.
When Liu formed a rock band as a teenager with his childhood friends, he named the band after the plant. In 2003, he formally launched a career as frontman with his band, and he bestowed on the band a new name, Low Wormwood.
"Usually the plant grows in poor conditions. It's often hidden by other foliage. However, it is strong and tough," says Liu, 39. "I named our band after it because it symbolizes the spirit of our music."
At that time, he didn't know how long the band would last. Along with his band members-all born and reared in Lanzhou-guitarist Zhou Xudong, bassist Xi Bin, and drummer Wen Feng, he focused on writing songs inspired by their lives and their hometown.
Now, nearly 20 years later, the band is one of the most active and productive bands in the vibrant indie music scene. They've released 11 albums and tour nationally with over 30 shows every year.
On Aug 21, Liu was scheduled to participate in the TED Zhongshan Bridge, an independently organized TED event, as a speaker. The event was supposed to held in Lanzhou. The Zhongshan Bridge, dubbed the "first bridge on the Yellow River", is a key tourist site in Lanzhou and sits in the middle of the city's White Pagoda Mountain Park.
The event was postponed to Sept 12 due to the coronavirus pandemic. Liu plans to share stories about his band and his songs inspired by Lanzhou.