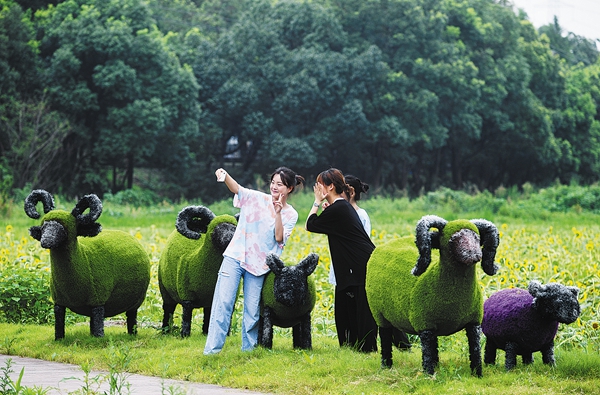 With the emergence of the COVID-19 Delta variant, travel plans are being changed with the emphasis now on booking and taking holidays much closer to home, Yang Feiyue reports.
A resurgence of COVID-19 on the Chinese mainland has once again cast a shroud over expectations of a booming summer for the tourism industry.
Liu Jia had high hopes for the summer vacation. The Beijing resident runs Manta Trip, a small travel agency in the capital's Chaoyang district.
"The bookings were great until the news about COVID-19 made the rounds," he says.
Requests of trip cancellations followed in the wake of the news at the end of July.
To date, Liu has refunded more than 40 guests.
He says he is looking at a loss of more than 50,000 yuan ($7,720) for August.
Up until mid-July, the tourism industry had been expecting a travel boom for the summer. The trans-provincial tour bookings made for the summer season (July 1-Aug 31) through the country's major online travel agency Trip.com surged more than 400 percent over those for last summer.
Yet, most tour providers have been snowed under with trip cancellations as the COVID-19 Delta variant surfaced in Nanjing and then spread to multiple provinces across the country.
The Beijing-based online travel agency Qunar dealt with trip cancellations that were 10 times higher than usual on Aug 4, right after the Civil Aviation Administration of China announced a free cancellation policy on domestic air tickets.
The Jiangsu-based online travel agency Tongcheng-Elong also reported a rise in cancellations of hotel reservations, transportation tickets and scenic spot bookings.
A psychological change and cautious approach by travelers are behind the mass cancellation, experts say.
Su Xing canceled his train tickets between Beijing and Qingdao, Shandong province, on July 30.
It was before the domestic spread of the new variant began to escalate.
"I knew the chance of me catching it during my trip was still slim, but I was afraid of tougher regulations hindering my return," the Beijing resident explains.
His concerns turned out to be warranted as COVID-19 prevention measures soon intensified.
The Ministry of Culture and Tourism suspended trans-provincial tours to more than 200 domestic areas considered to be medium and higher risk in early August, and asked scenic sites nationwide to add further prevention and control measures and enhance supervision over tourism operations.
Beijing has suspended train services to the capital from a dozen of cities in an effort to reduce transmission of the coronavirus. The capital city has also urged residents to avoid traveling to risky areas for leisure and business, and all sports and fitness facilities to exercise stricter prevention and control measures.
More stringent precautionary measures have also been put in place in most public areas, including temperature checks, health-code checks, reservation only visits, staggered entry, improved air ventilation and thorough disinfection.
Over 20 provinces have also proposed trans-provincial travel bans, including Sichuan, Shanxi, Guangdong, Chongqing and Shandong.
Although financial losses seem to be inevitable, some travel agencies have planned for such an eventuality.
Zhao Yong from Nanjing Guantu International Travel Service in Jiangsu says he will change his business model and consider a partnership system to better shield himself against risk.
Yang Xue from the Xindalu Travel Agency has seen 80 percent of bookings through the company canceled, but says she has been able to mitigate losses by sustaining arrangements for themed outdoor experiences.
Yang says the company will review the situation later and better brace itself against market uncertainties in the future.
Yet, the fall of cross-provincial tours has boosted local tourism businesses.
"We've seen an increase in homestay bookings over the same period in 2019, before the pandemic, among local family and self-drive travelers in Beijing," says Si Xinran, a senior official with the homestay association of Yanqing district, northwestern Beijing.
More than half of the available homestay rooms have been booked through the summer vacation.
The association has more than 120 homestay brands in the district.
She attributes the increase to the fact that local residents couldn't leave the capital and could only travel to the suburbs of the city.
Tourism expert Xiao Yuanshan says the tourism market's needs have changed.
"The main trend to note is that travel doesn't have to be to faraway places, and this new bout of COVID-19 cases, once again, shows that localization of offerings is worth trying," Xiao says.
Local rural tourism and urban vacations have a sufficient repurchase rate. Although the customer unit price is low, that is not necessarily the case for the profit margin, Xiao explains.
He calls for more focus on rural homestays as well as the arrangement of social group experiences in the future.
When travel is restricted during the pandemic, more people will stay in the city and they want to spend weekends with those who share the same interests and values, he says.
Moreover, Xiao suggests tourism personnel, who had turned to product sales via their social accounts during the pandemic last year, continue to sell distinctive rural experiences.
"These frequently-consumed products enable us to continuously establish connections to tourists with low-frequency consumption," Xiao says, adding that it would increase the appeal of such destinations to travelers in the long run.