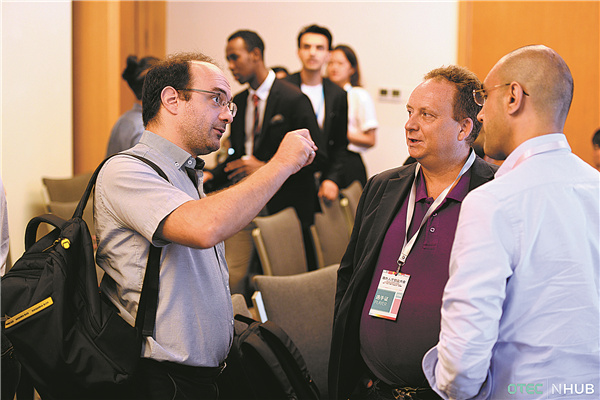 The Overseas Talent Entrepreneurship Conference held annually in Beijing's Chaoyang district has become an one-stop service platform for overseas entrepreneurs earning wide recognition, according to district officials.
Launched in 2013 by Chaoyang district, OTEC is committed to offering services to overseas talents and returnees who intend to begin their career in China.
By organizing diverse activities such as contests, forums and job fairs, the conference has not only helped to attract investment and entrepreneurs but enhanced the city's capability for innovation, organizers said.
This year's OTEC started in May and will last through September. It features four major events-the Global Entrepreneurship Competition, the International Startup Meetup, the International Innovation Summit and the Entrepreneurship Tour across China.
The event will facilitate the development of the digital economy and support the capital's endeavor of building "two zones"-the China (Beijing) Pilot Free Trade Zone and the Integrated National Demonstration Zone for Opening up the Services Sector, according to the organizers.
As a key part of OTEC, the Global Entrepreneurship Competition focuses on the four fields of new consumption, healthcare, big data artificial intelligence and the digital economy.
Organizers said that compared with previous years, participants in OTEC 2021 were divided into two groups-startups and growth companies-to involve more businesses and projects with broad prospects.
Organizers have set up five overseas competition zones and partnered with seven other domestic cities such as Zhangjiakou in Hebei province and Changsha in Hunan province to hold the competition preliminaries in China.
The event serves as an opening-up platform strengthening the district's regional cooperation and advancing integrated development, organizers said.
During the overseas competitions, six projects won. Together with 23 domestic teams, they participated in the final held in Beijing on Friday.
The champion of the growth company group will receive a service package worth 1.3 million yuan ($201,000) and that of the startup group will win a service package worth 900,000 yuan, according to the organizers.