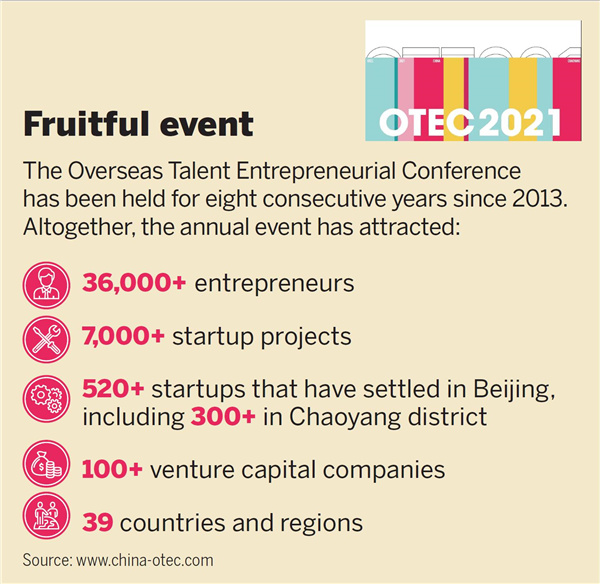 Chaoyang district is also providing excellent competitors with a variety of prizes and services such as workplaces, financial aid, leadership coaching and brand promotion.
Beijing Qboson Quantum Technology, a startup dedicated to quantum computing, was the champion of the data intelligence and new infrastructure segment in last year's competition.
Founded in November 2020 with the help of OTEC, the company has applied for dozens of patents and scored an angel financing round with local government support, said its CEO Wen Kai.
OTEC has partnered with Tech-Node to organize the OTEC-Emerge Tech Summit in Beijing. The summit was initially scheduled for Aug 15 but has been postponed until September due to the latest COVID-19 outbreak.
At the summit, the first-ever OTEC-Emerge Tech Awards will be presented to promising startups founded in China by international teams. Apart from the awards ceremony, the summit will feature three panels on smart mobility, digital economy, and cross-border investment. Experts, academics and corporate leaders are poised to share their insights and analyses at the event, exploring the future of China's science and technology industries, the organizers said.
Coinciding with the summit, the International Startup Meetup will bring together 50 representatives from multinational corporations and organizations to discuss Chaoyang's tech policies and share their experiences in starting businesses overseas.
Since 2013, OTEC has attracted more than 36,000 entrepreneurs and 7,000 startup projects from 39 countries and regions around the world. Of them, 520 projects have been launched in Beijing.
The annual event is helping Beijing become a globally influential sci-tech innovation center. It also assists Chaoyang district in advancing its innovation-driven development strategy by creating an entrepreneurship service ecosystem and building an international center for startup businesses, its organizers said.