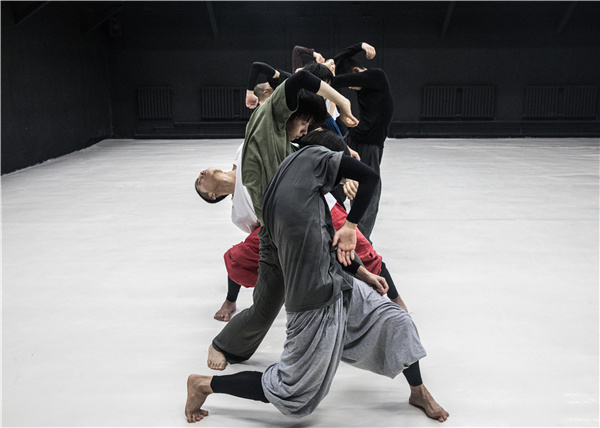 He says that his dance works aim at inviting people to join in.
"There is no story told through my dance works. I wish that you could reflect on your own body after watching my works," Tao says.
Naming his dance works after numbers is a tradition for the choreographer.
In 2008, he and his girlfriend, now his wife, dancer-choreographer Duan Ni, and another dancer, Wang Hao, formed the TAO Dance Theater.
They started with a performance for three dancers, Weight x 3, which premiered in Beijing in 2009. Soon his unique choreography attracted attention and drew invitations.
Singapore Arts Festival, Norrland Opera of Sweden and Dansmakers Amsterdam of the Netherlands commissioned him to create a dance piece, 2, for Tao and Duan. Then, he started to explore other numbers. Xiao He, whose real name is He Guofeng, has been composing for Tao's choreographic works since the dance piece, 2.
So far, Tao and his theater has toured more than 40 countries, and it was the first Chinese contemporary dance company to perform at the Lincoln Center Festival in New York City. Sadler's Wells, a British dance company, has commissioned Tao to perform at the event for three consecutive years since 2016.
Born in Chongqing, Tao was sent to a local dance school to learn classical Chinese and ethnic dances by his grandmother when he was 12 years old, because "my body was very flexible and I imitated the dancer I saw on TV to do the splits, which impressed my grandmother", Tao recalls. He fell in love with contemporary dance after he visited the Jin Xing Dance Company in Shanghai, which enabled him to dance by "listening to my body and following my heart, rather than dancing based on techniques," he says.
Tao joined the Jin Xing Dance Company in 2003. In 2005, he moved to Beijing, where he danced with the Beijing Modern Dance Company.
In 2019, Lin Hwai-min, founder of Cloud Gate, a well-known Taiwan dance company, invited Tao to produce one new piece: 12, since Tao worked with 12 dancers from Cloud Gate then.
Speaking about Tao and his choreography, Lin said: "He is the most promising contemporary dancer on the Chinese mainland. His works belong to the 21st century. They amaze people and provoke deep reflection."