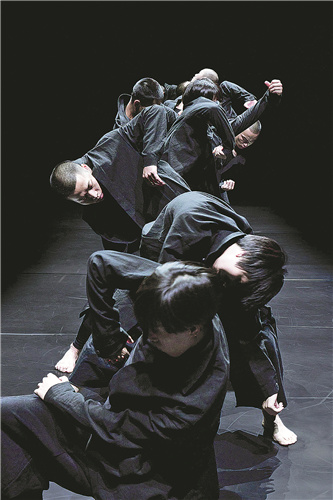 Breathing heavily and sweating, 11 dancers move to the numbers they utter in low voices while walking fast from one direction to another. The air is humid and the noise they make between their foot and the ground is hard to ignore. They wrap up their 30-minute showcase by sliding down to the floor.
They are dancers of the TAO Dance Theater and what they performed was a preview of their latest contemporary dance piece, 11, which will be premiered at the National Center for the Performing Arts in Beijing on Aug 24 with three shows running throughout Aug 26. Then, they will tour nationwide with the new dance piece.
"The first thing I want to mention is that there will be music for the dance work. However, the composer Xiao He hasn't finished it yet," says Tao Ye, choreographer and founder of the theater, right after the showcase. "But we are used to it. It's been a very long time that we work with the composer. He gets our ideas and will finish the music right on time."
Sporting a loose, black T-shirt and black harem pants, Tao, 36, talks in the center of the theater, which is located in Beijing's northeast suburbs. The dancers, who need a lot of space but cannot afford the high rents in the city, gather in a quiet village, called Hegezhuang. The two-story house, which serves as their training studio, is painted all black, except the dance floor, which is pure white.
Tao's latest choreographic piece, 11, will be his longest piece so far, which will be around one hour.
Audiences will see the choreographer's interpretation of the number 11 through dance moves by soloists, pas de deux and group dances.
"The number 11 presents conflict and harmony to me. Thus the choreography for the dance piece involves dancers to move to display the two characters," says Tao. "Improvisation is also used in the dance piece, which is the hardest part for me. From their waist below, dancers move based on choreography. Waist above, they move impromptu, which will present 11 different dances."
The choreographer adds that he is always careful about improvisation.
"When a dancer improvises, the moves he or she makes should be connected to the audiences. The awareness of the body is crucial for the dancers. It's like a conversation with themselves while they dance and the energy should be passed on to the audiences," he adds.
As a young choreographer, who has not only stood out among his peers of China's burgeoning contemporary dance scene but also captured global attention, Tao is fully aware of the logic of movement and he tries to explore the possibility of the body as well as the relationship between the body and the space. He believes that dancing is beyond techniques.